Machine-The asset which creating value of products, services, profit, jobs, and income for us.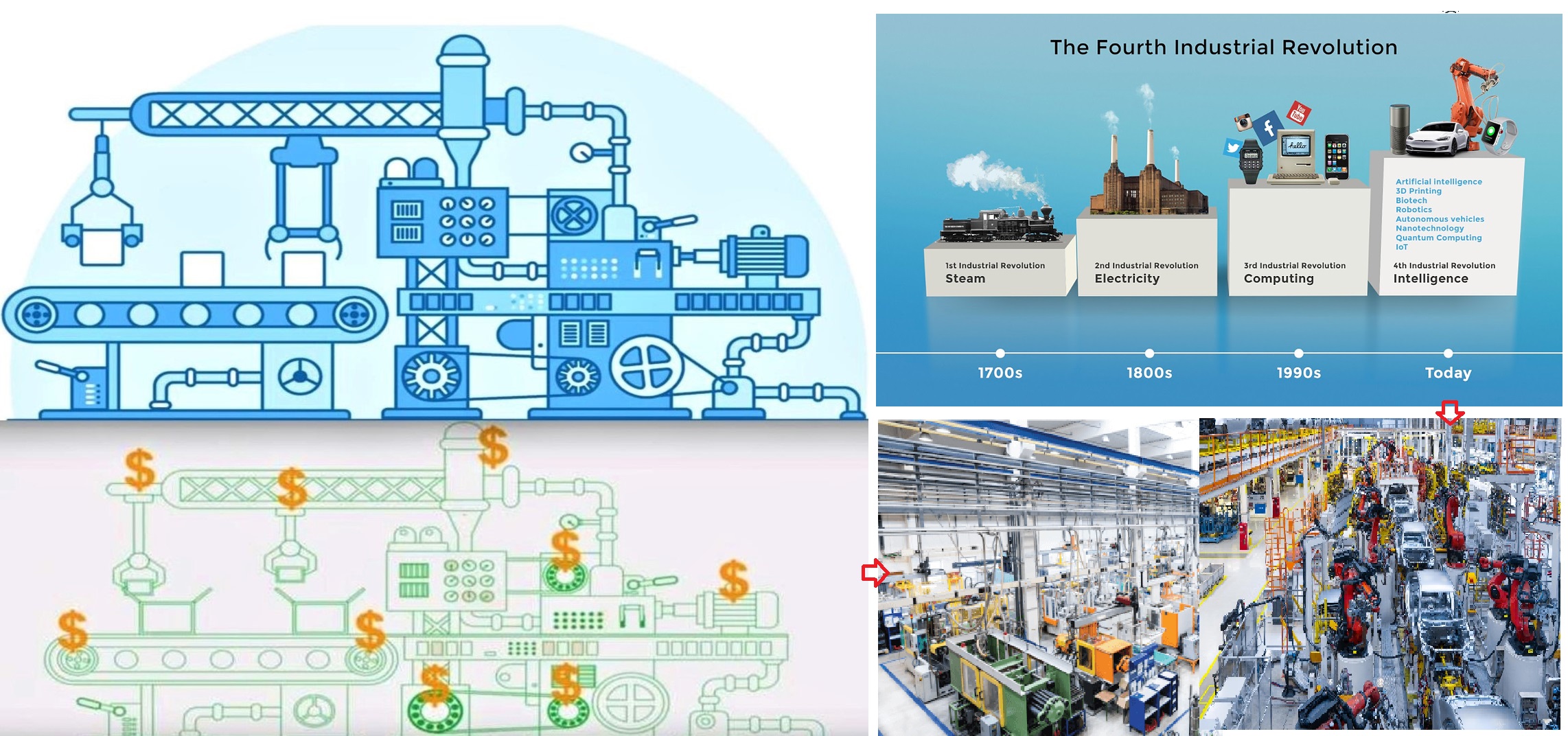 From 1760-The industrial revolution 1.0: Machine were invented and used rarely, until now 2023-The industrial revolution 4.0: Machines are used in many applications, but we still using manual lubrication way.
For many industrial facilities, manual lubrication has been "good enough" for a century or more.
But it isn't very efficient and it doesn't consistently protect your expensive production machinery. So why still settle for it?
THE 3 DISADVANTAGES OF MANUAL LUBRICATION 
Improper lubrication and exposure to contaminant-moisture: This is the biggest problem with manual lubrication. Under‑lubrication can cause a variety of problems, including:
Increased friction between metal surfaces,

Increased heat, which is caused by friction,

Premature bearing and equipment failure, which can be caused by both, and

Exposure to contaminants and moisture.
Over-lubrication can cause just as many problems, including:
Increased heat due to increased internal friction,

Premature grease degradation due to excessive heat, and

Internal stress on bearings as the excess lubricant pushes the rolling elements against the outer bearing race, making the bearing work harder.
Industrial bearings can be placed in some really nasty environments. Even grease nipples that are properly capped between re-lubrication events are susceptible to contaminants from a dirty work area or from dirty hands or tools.
If care is not taken to ensure this nipple is clean prior to applying lubricant, contaminants such as dirt, sand, metal shavings, wood dust, and gravel can make their way into the lubrication stream. If this happens, not only is the lubricant effectiveness compromised, but the bearing itself is also in peril. This is a risk every time the bearing is manually lubricated. So, the more frequent the lubrication, the greater its vulnerability to contamination.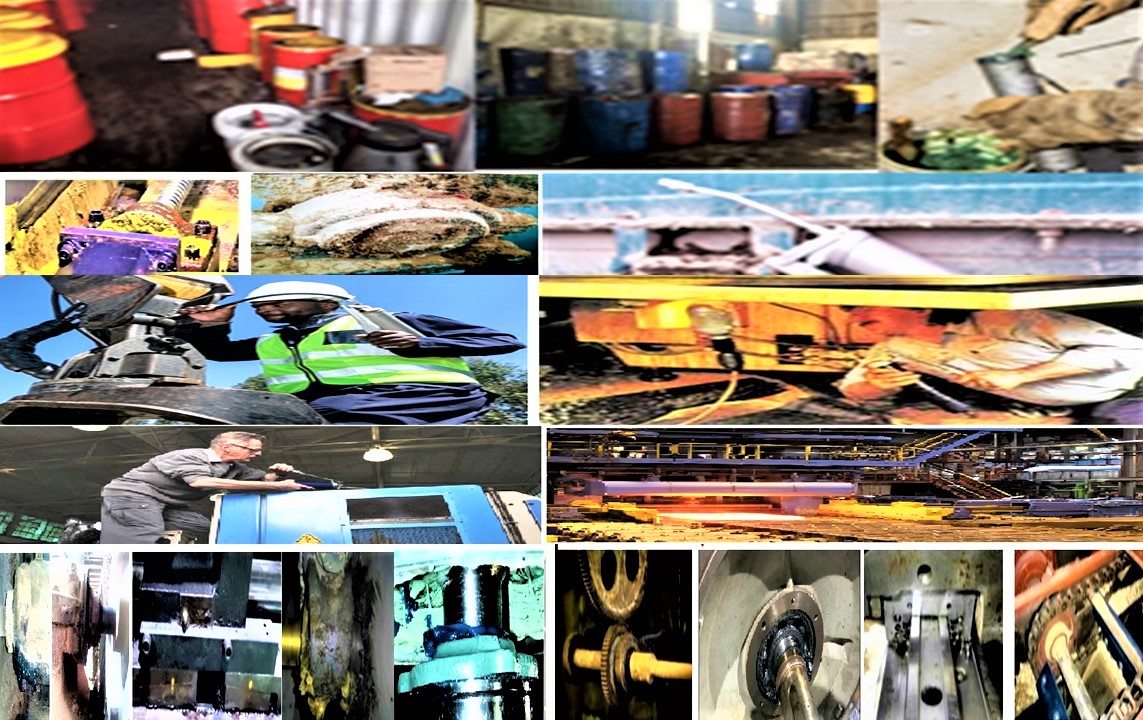 2. Time-cost consuming implementation and relating labor safety issues: From a labor standpoint, manual lubrication is quite costly. It involves a lot of preparation work, including gathering equipment and tools, locking out machinery and removing machinery covers and panels to access the lubrication points.
Today's machines, especially those with high-speed bearings, require more frequent lubrication to keep up with increased productivity demands. That means the tedious task of re-lubrication must be repeated more often, adding to the equipment's maintenance cost, especially for the difficult access or dangerous lubrication points such as high level, high temperature, high noise-dust level, chemical exposure, explosions….
Lubricant purchasing and logistics cost is another point: To manually lubricate machinery throughout a facility, the maintenance technician must load up a lubrication cart with grease guns and lubricants and then push it to each machine to apply the lubricant. Over 80% manual lubrication are over lubrication which mean wasting a lot of lubricant, hence cost more lubricant purchasing and storage fee.
3. Uncontrollable and uninteresting work which is easily got human errors.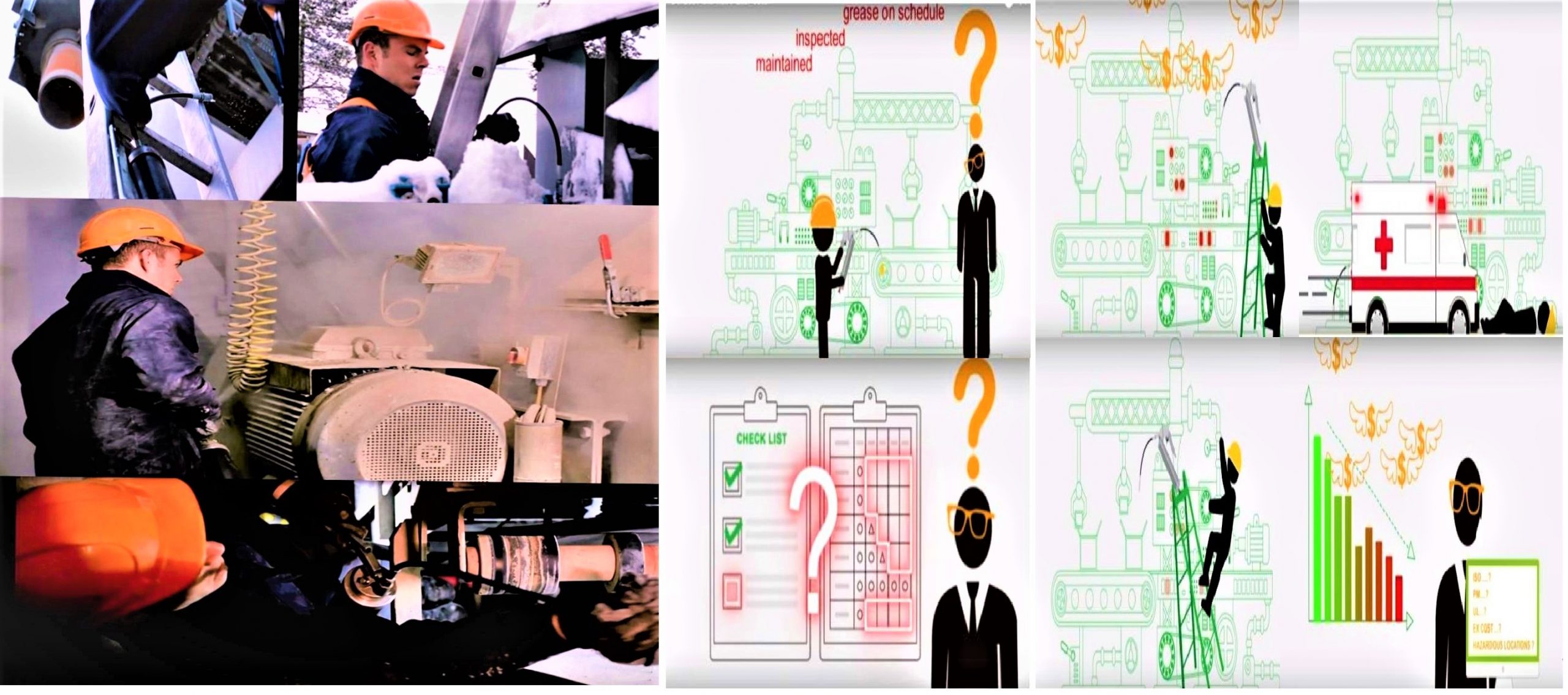 DISCOVER MORE DETAILED REASONS WHY CHANGING FROM MANUAL TO AUTOMATIC LUBRICATION IS A TREND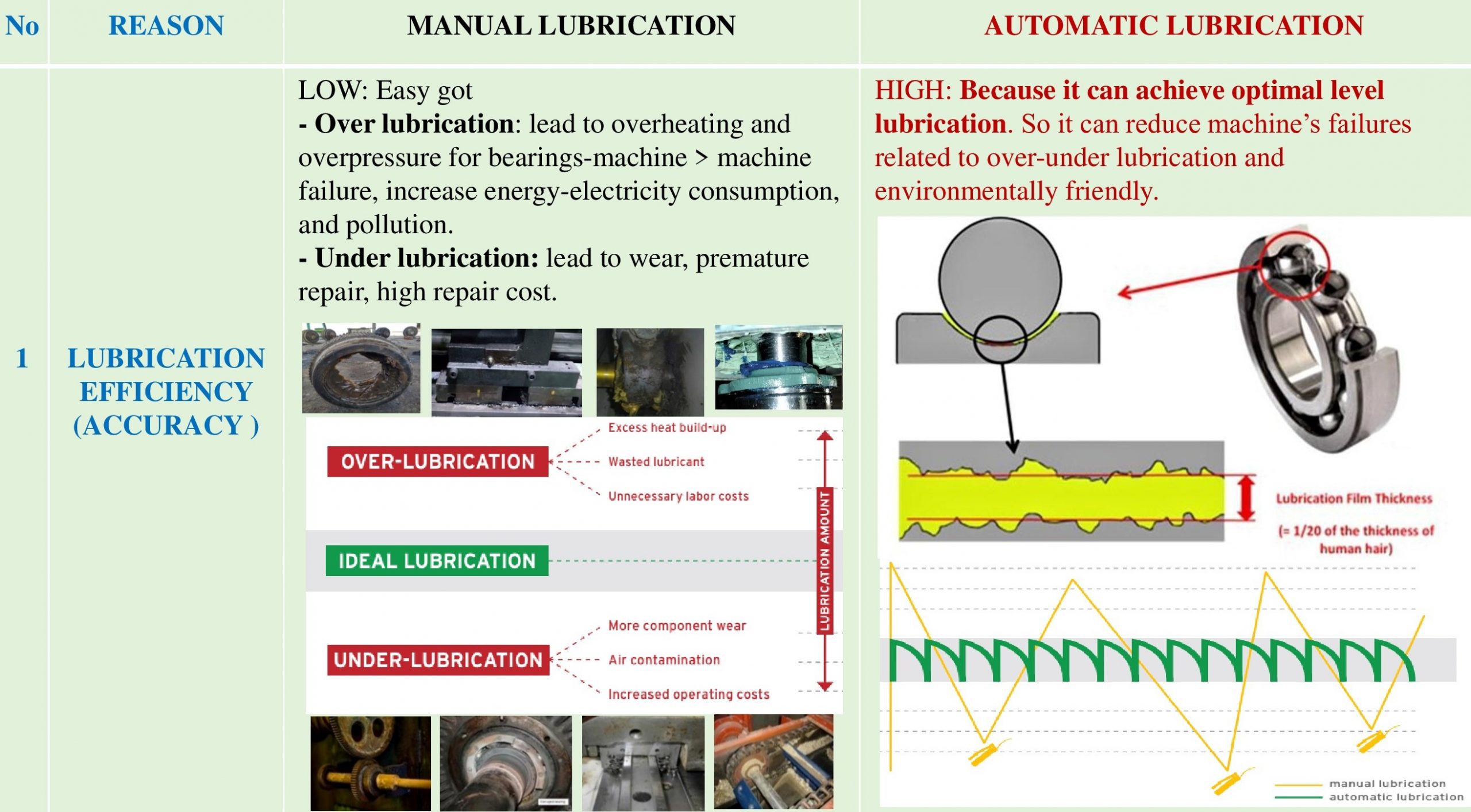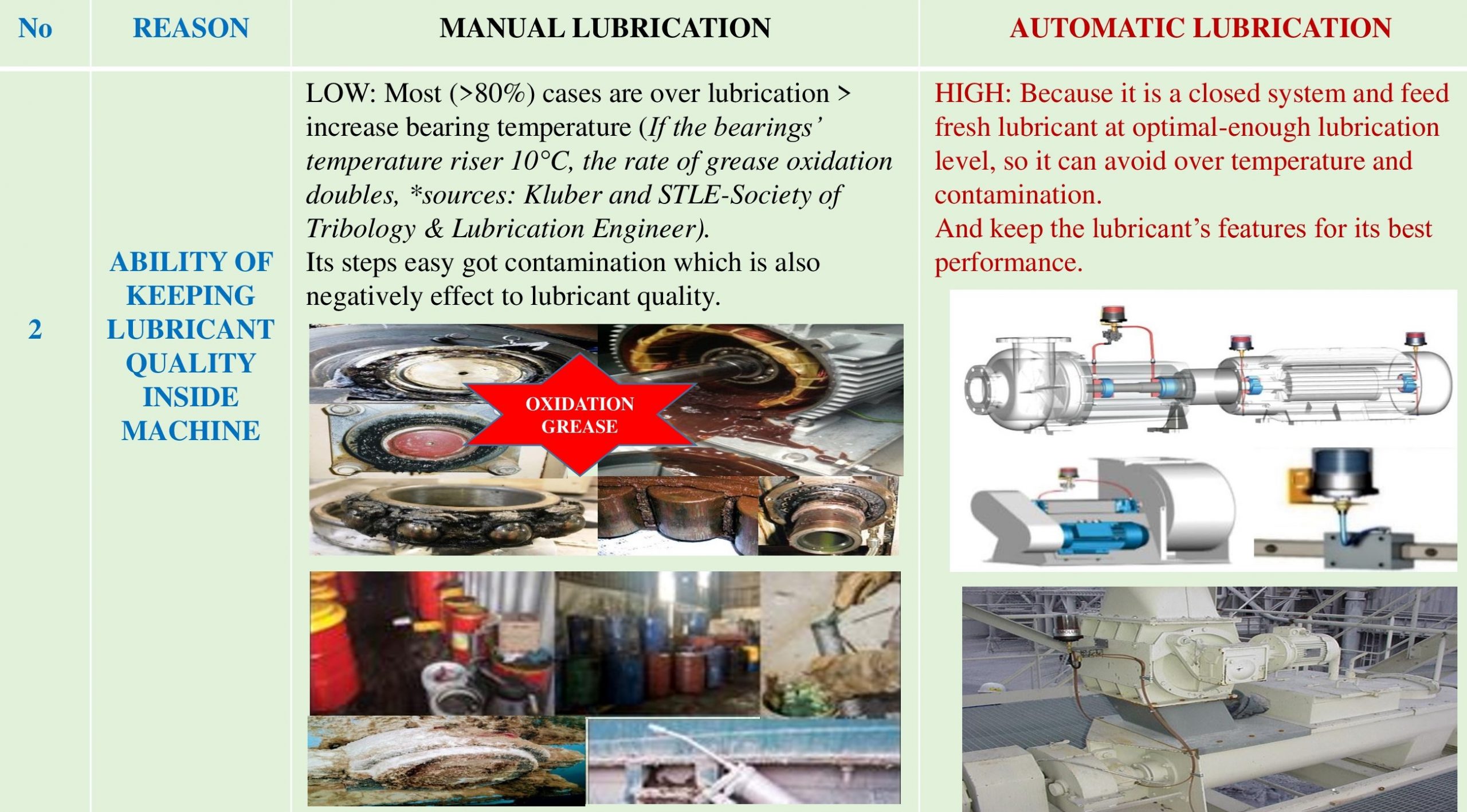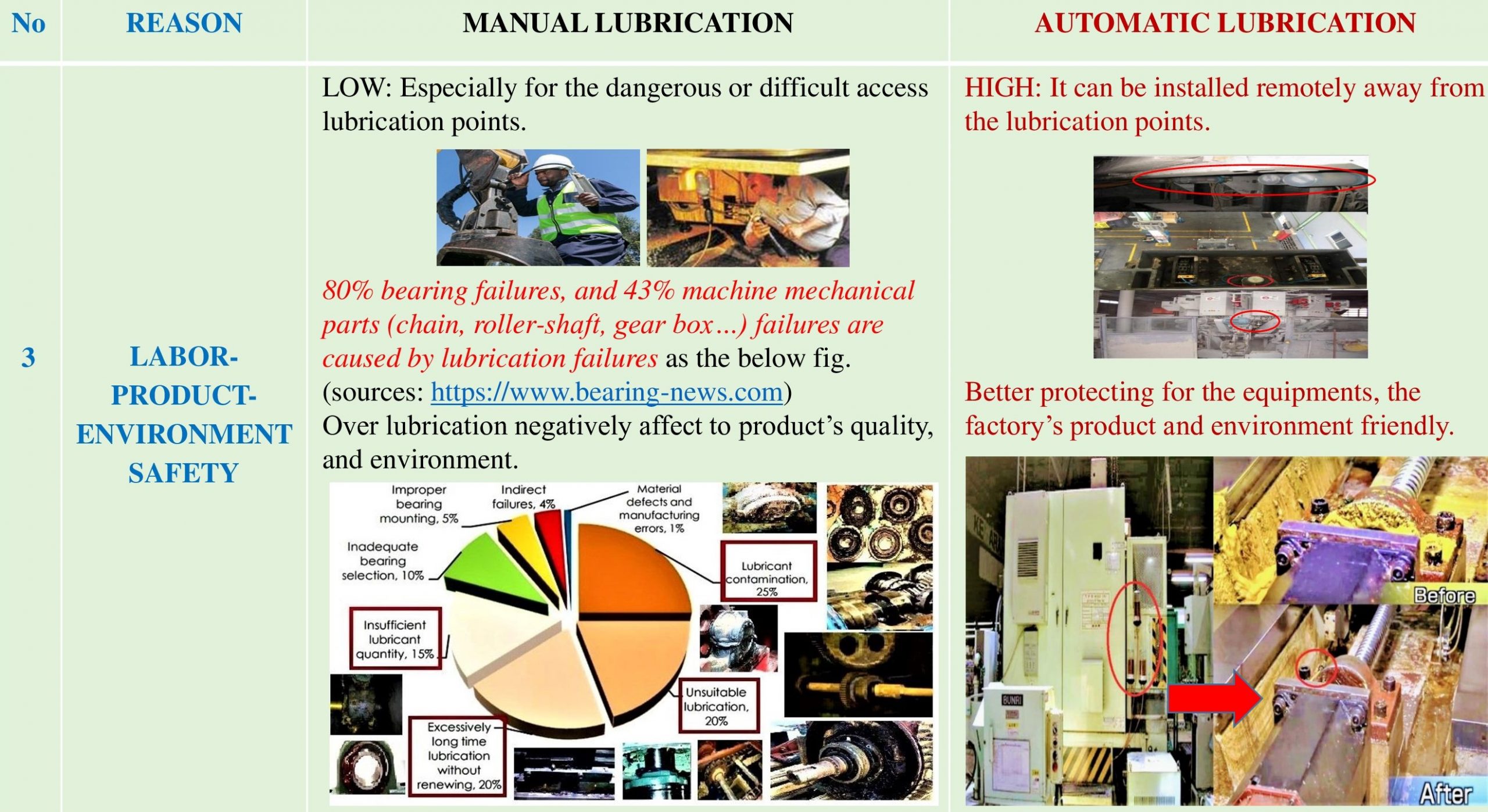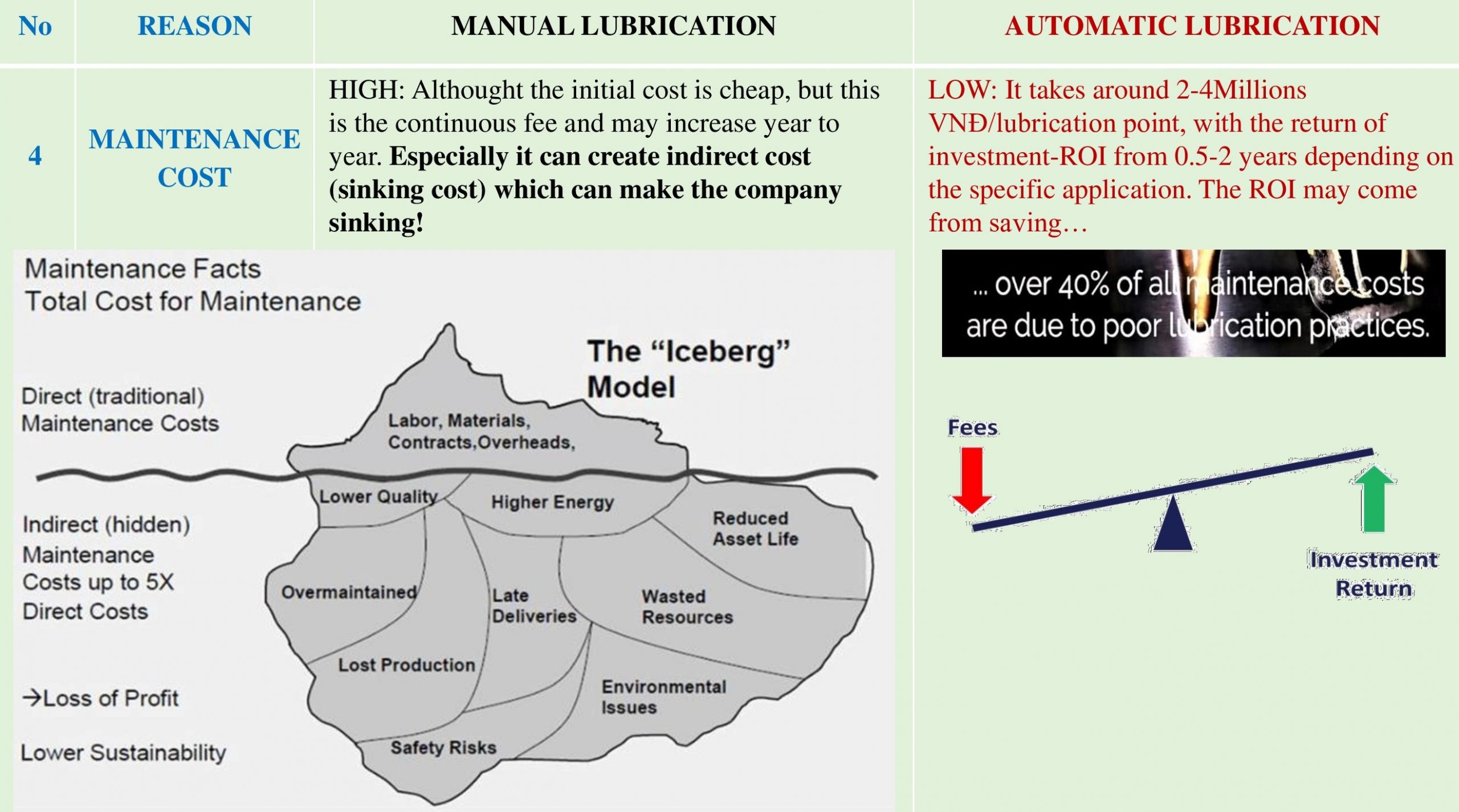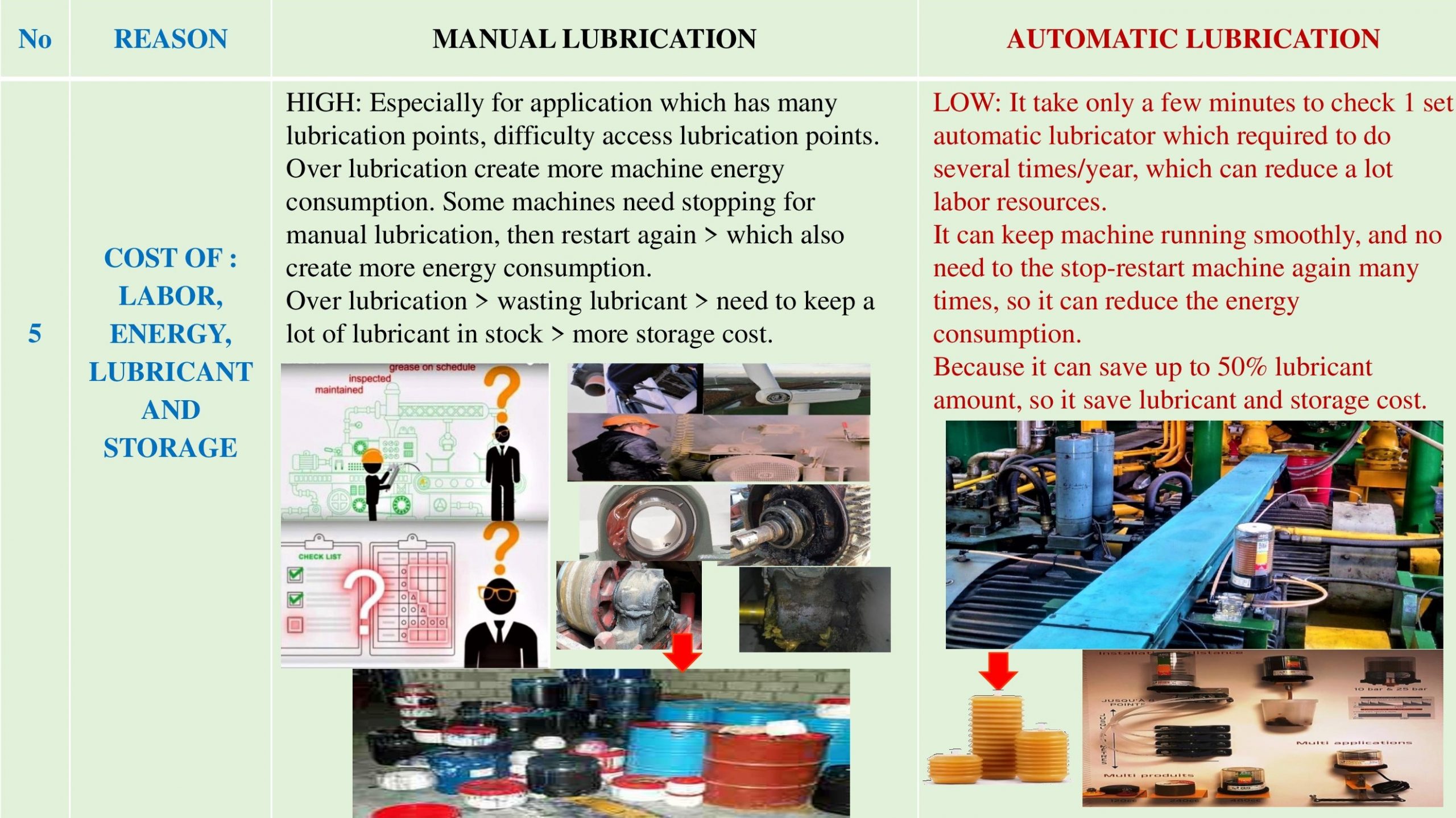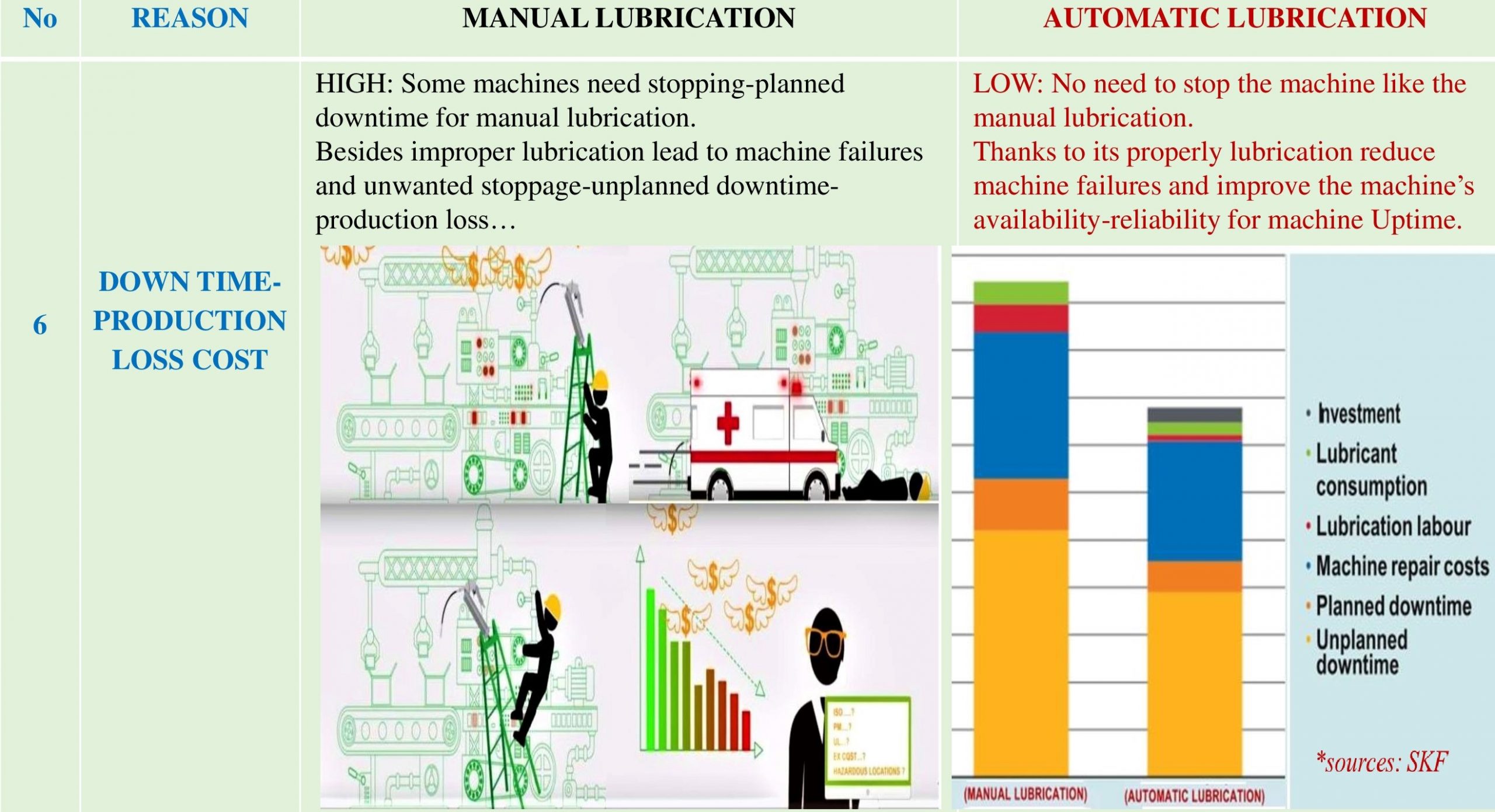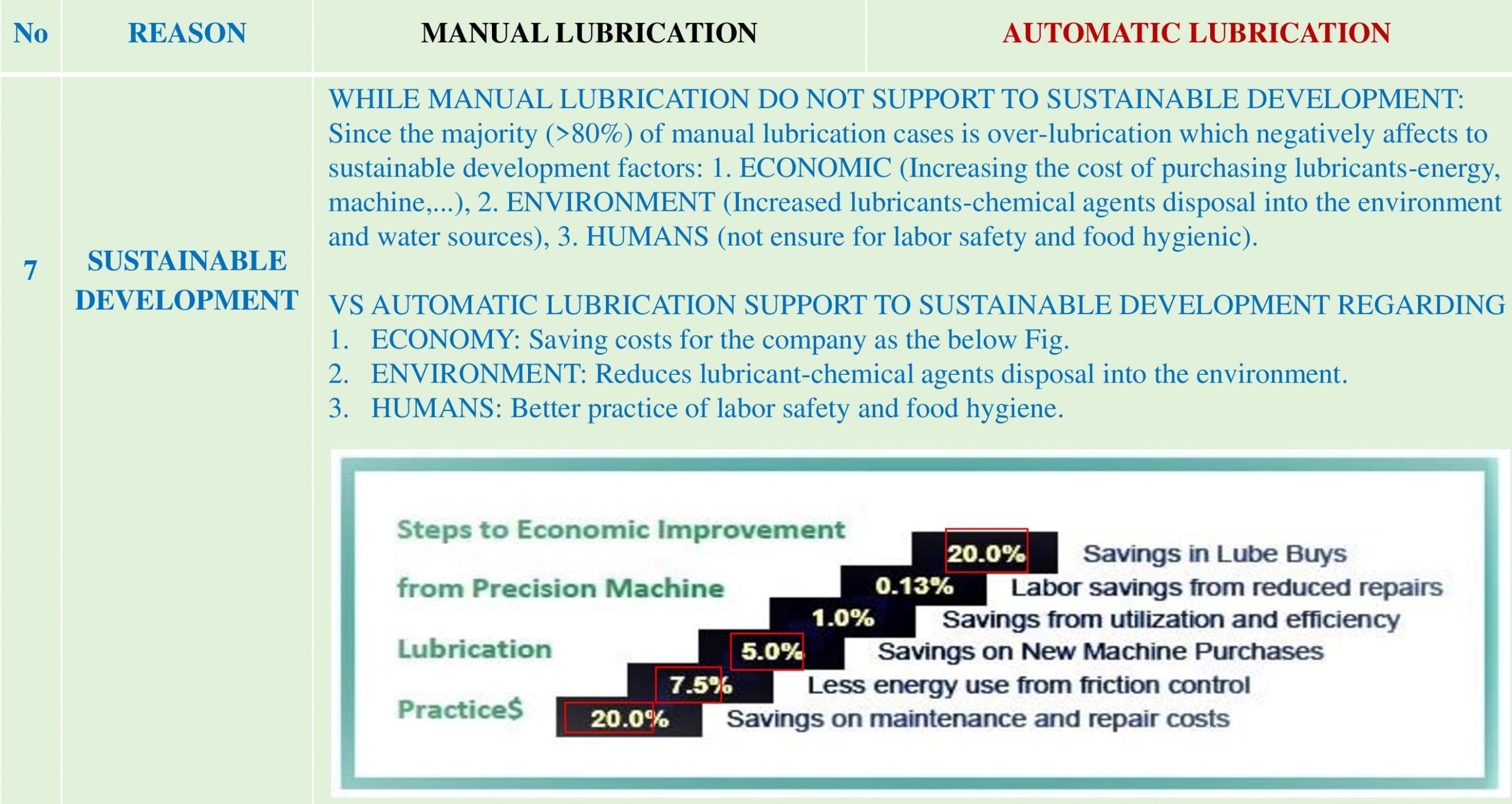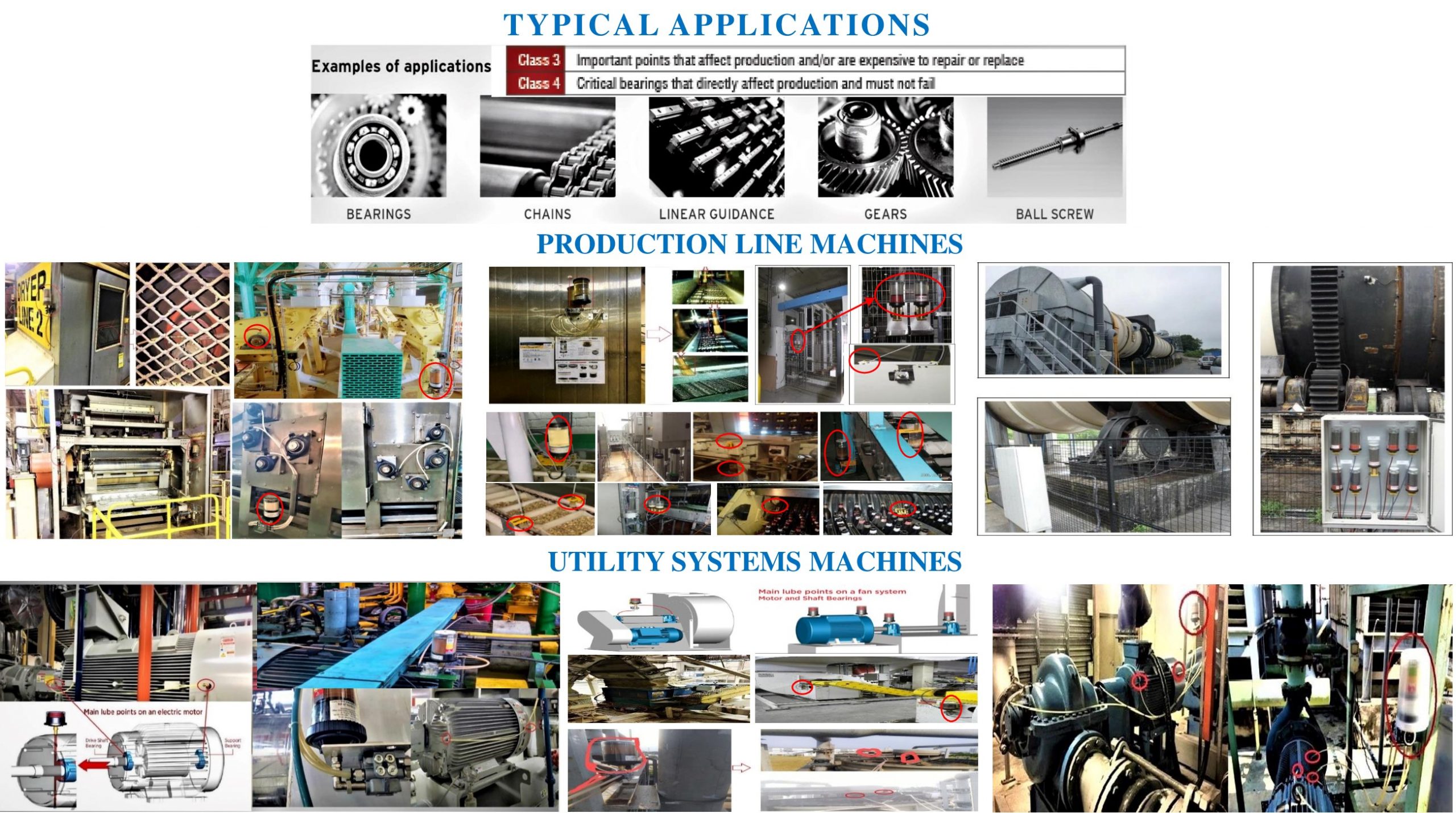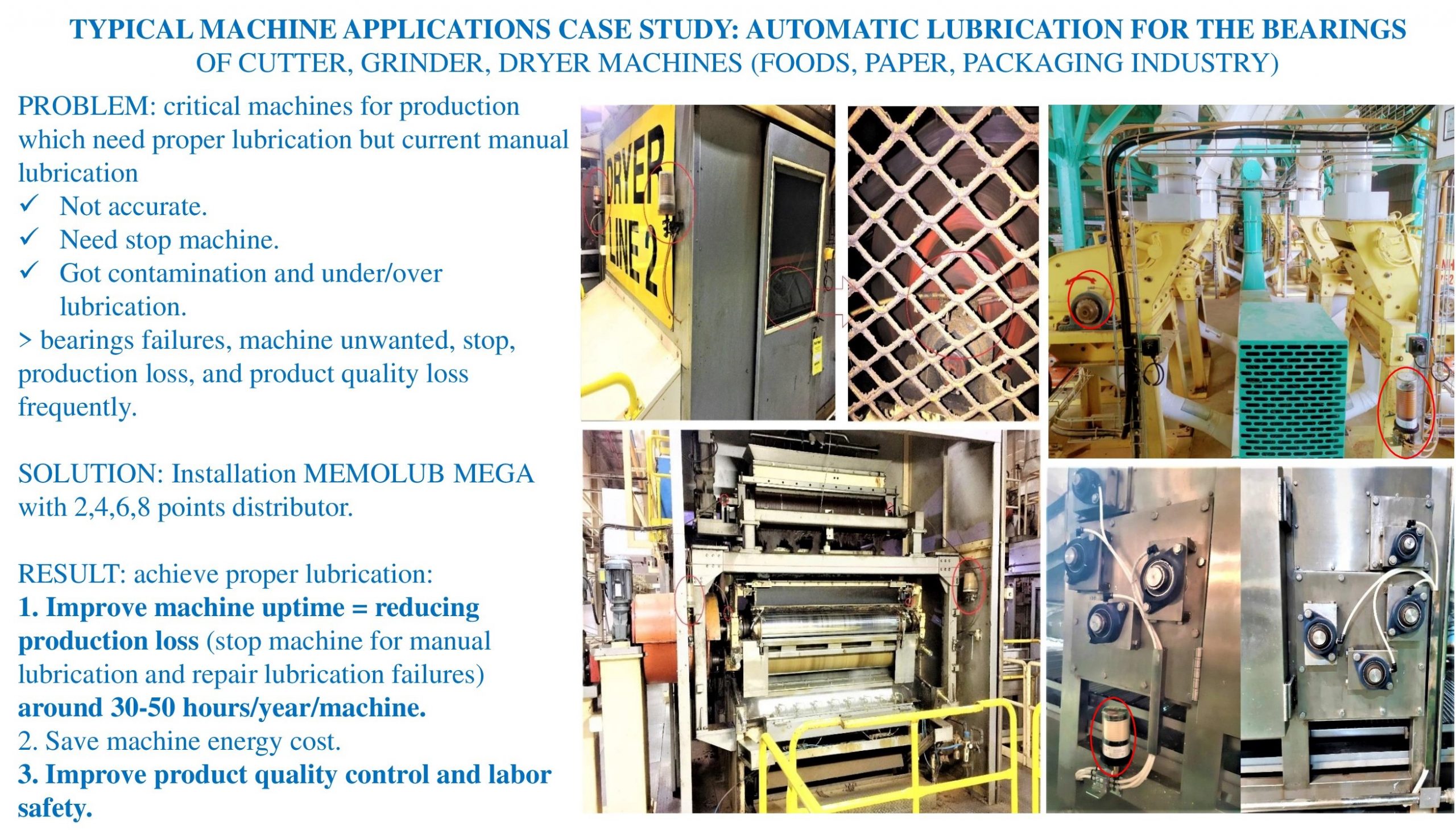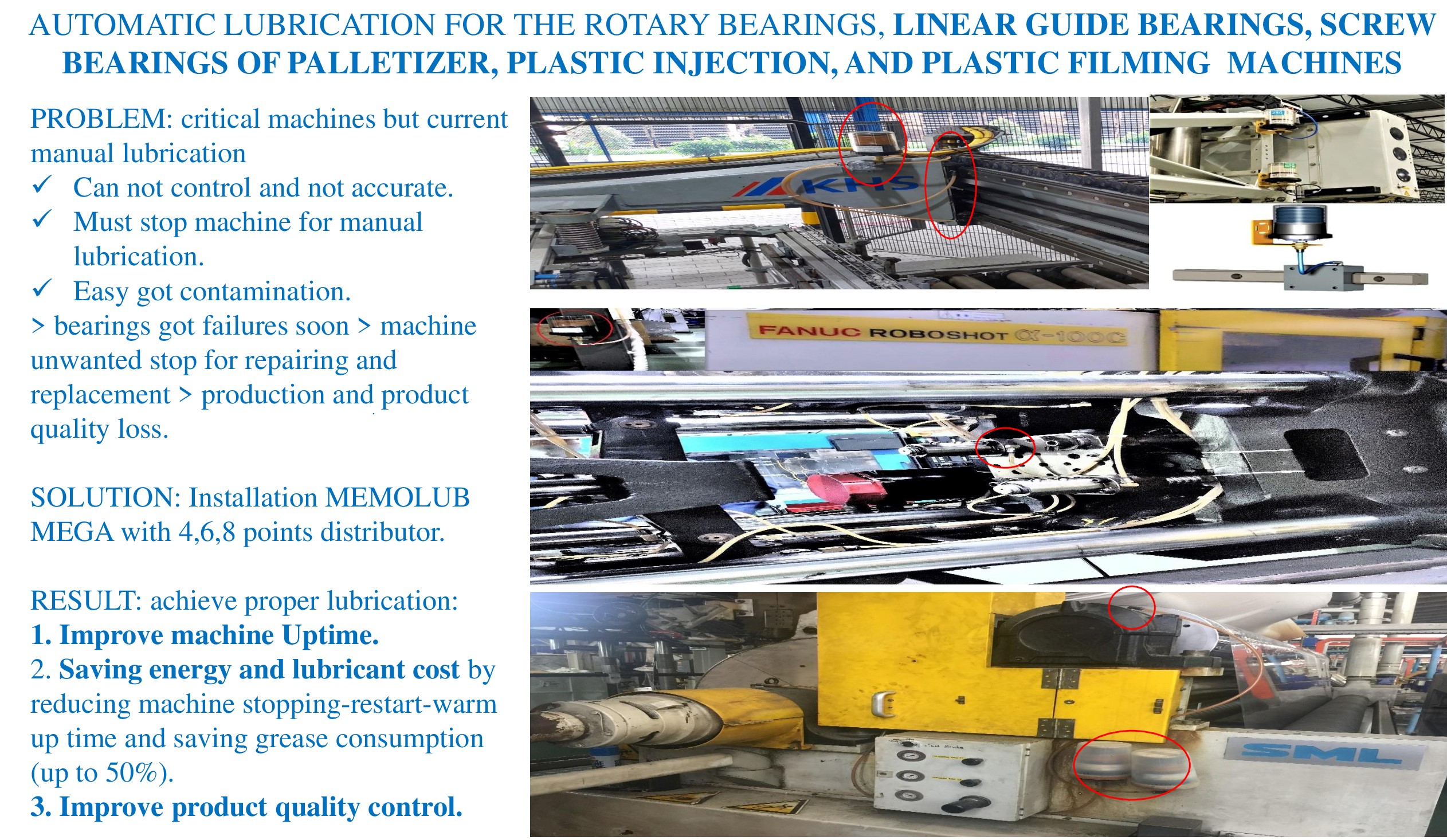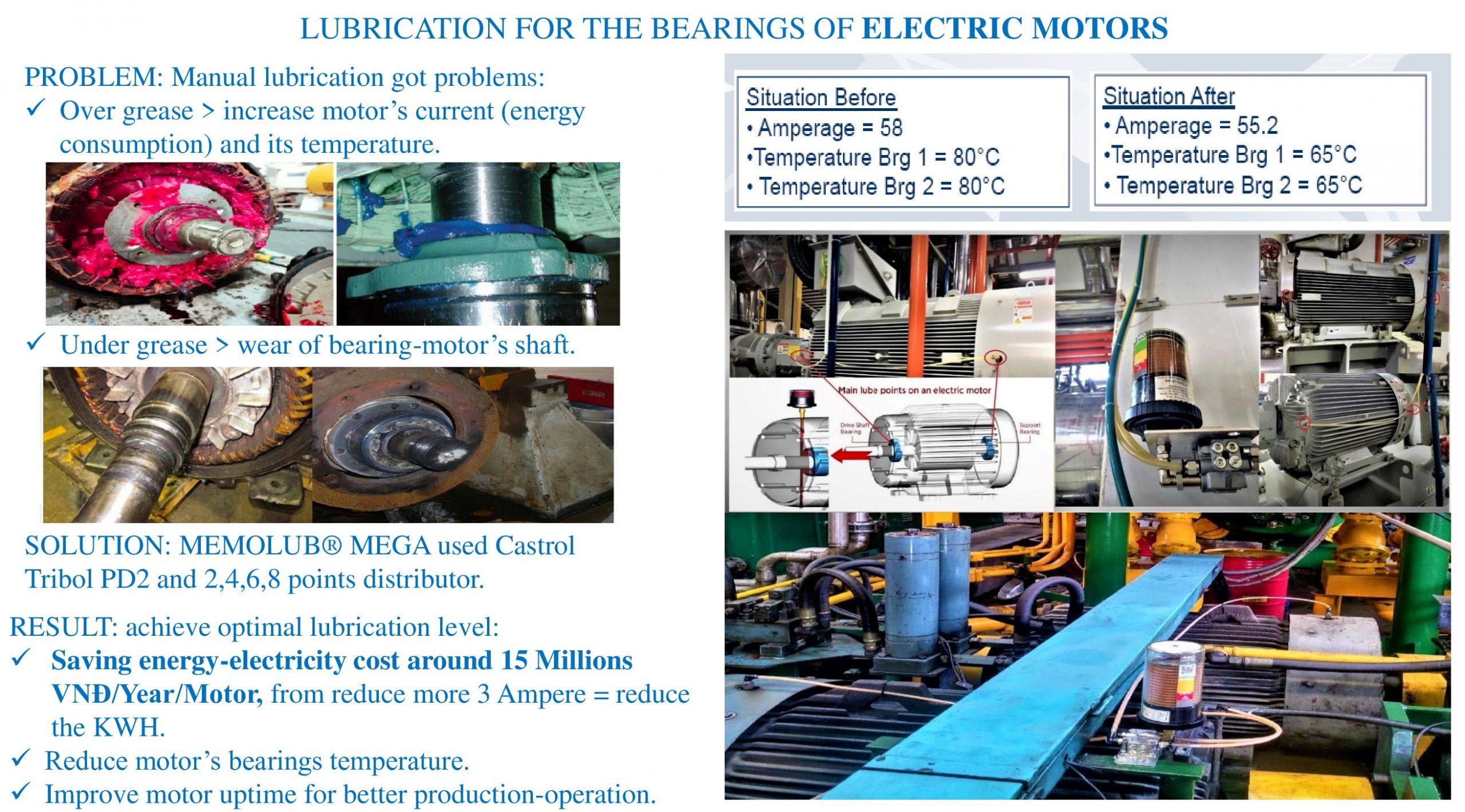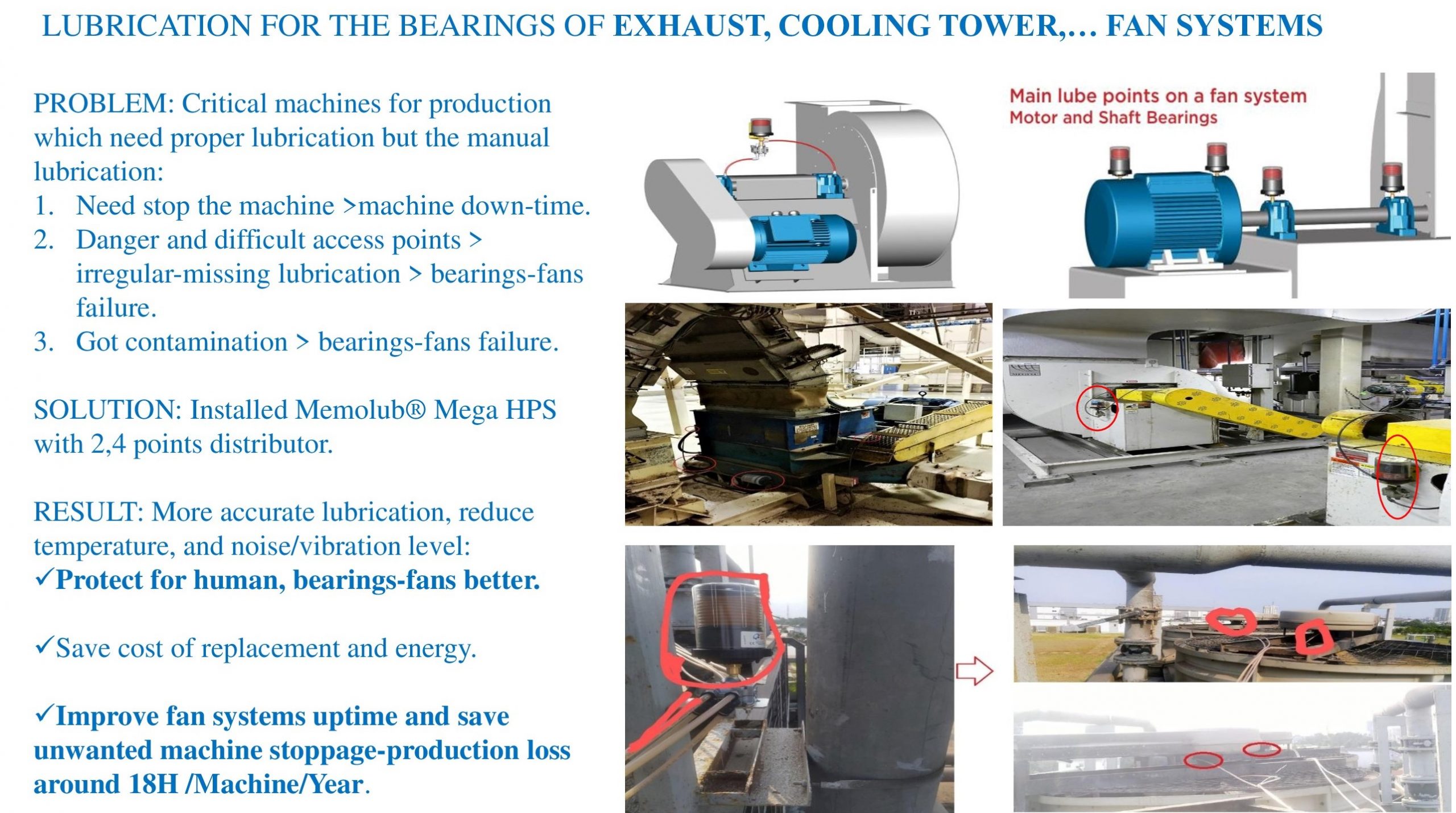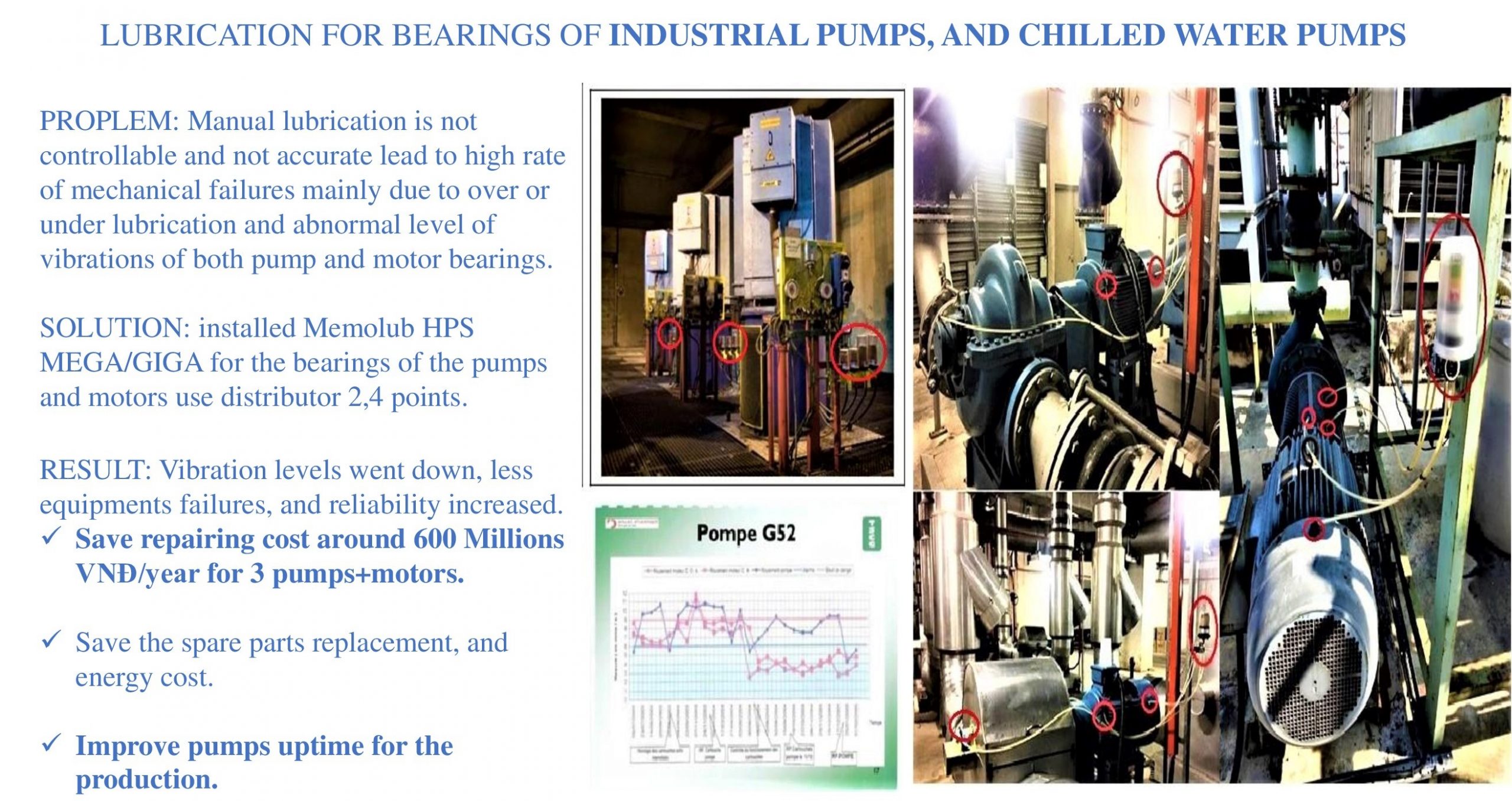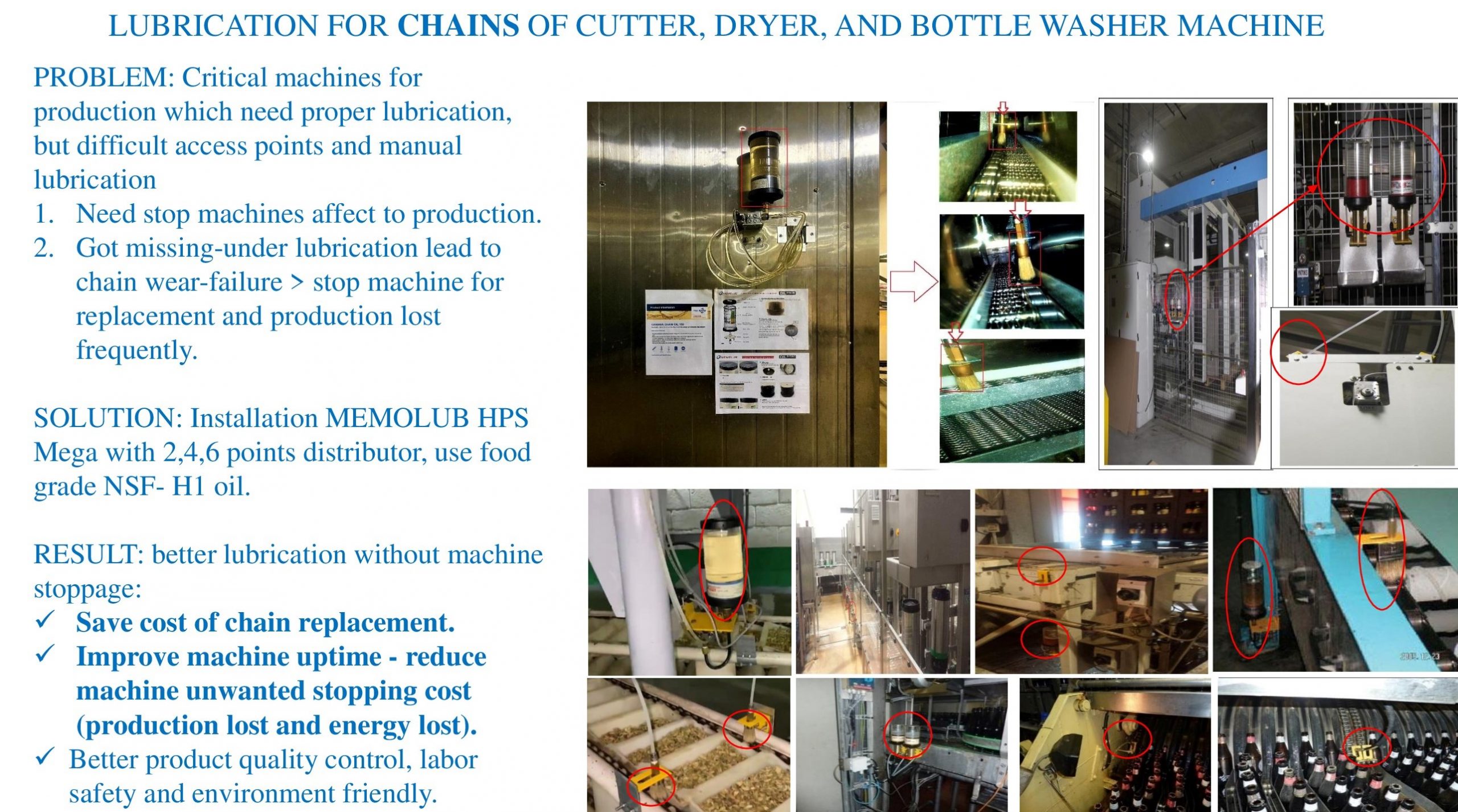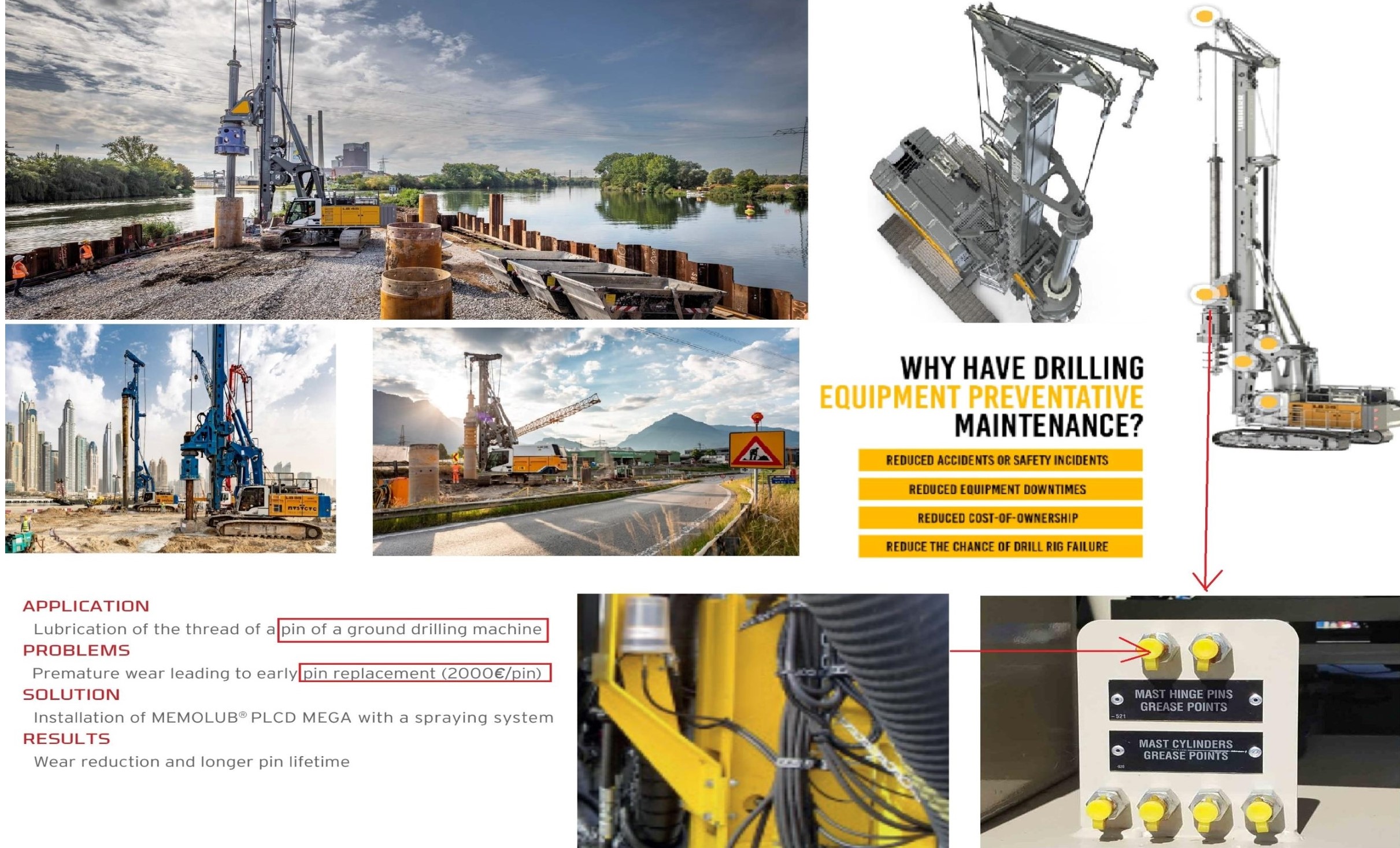 Automatic lubrication systems can be more sustainable than manual practices and can help customers save money through more efficient use of materials and longer-lasting equipment.
1. ECONOMY AND ENVIRONMENT FRIENDLY: A properly installed automatic lubrication system can reduce (43-80%) cause of machine's mechanical transmission parts (bearings, chains, gears,…) which improve machine uptime, and reduce 50% grease consumption amount compare to manual lubrication and reducing lubricant-chemical agents disposal to the environment and water sources. Automatic lubrication systems installed on wind turbines help ensure their continuous operation as reliable sources of renewable energy which can reduce greenhouse gas emission.
2. SAFETY is another key consideration driving the automatic lubrication system trend. Especially in challenging environments like ports, mines and quarries, power-energy plants who are turning to automatic lubrication to reduce risk and prevent accidents.
3. LEAN: They help lessen labor needs and optimal labor resources.
All above is creating a more sustainable development manufacturing economy. And that is why "applying automatic lubrication is becoming a trend".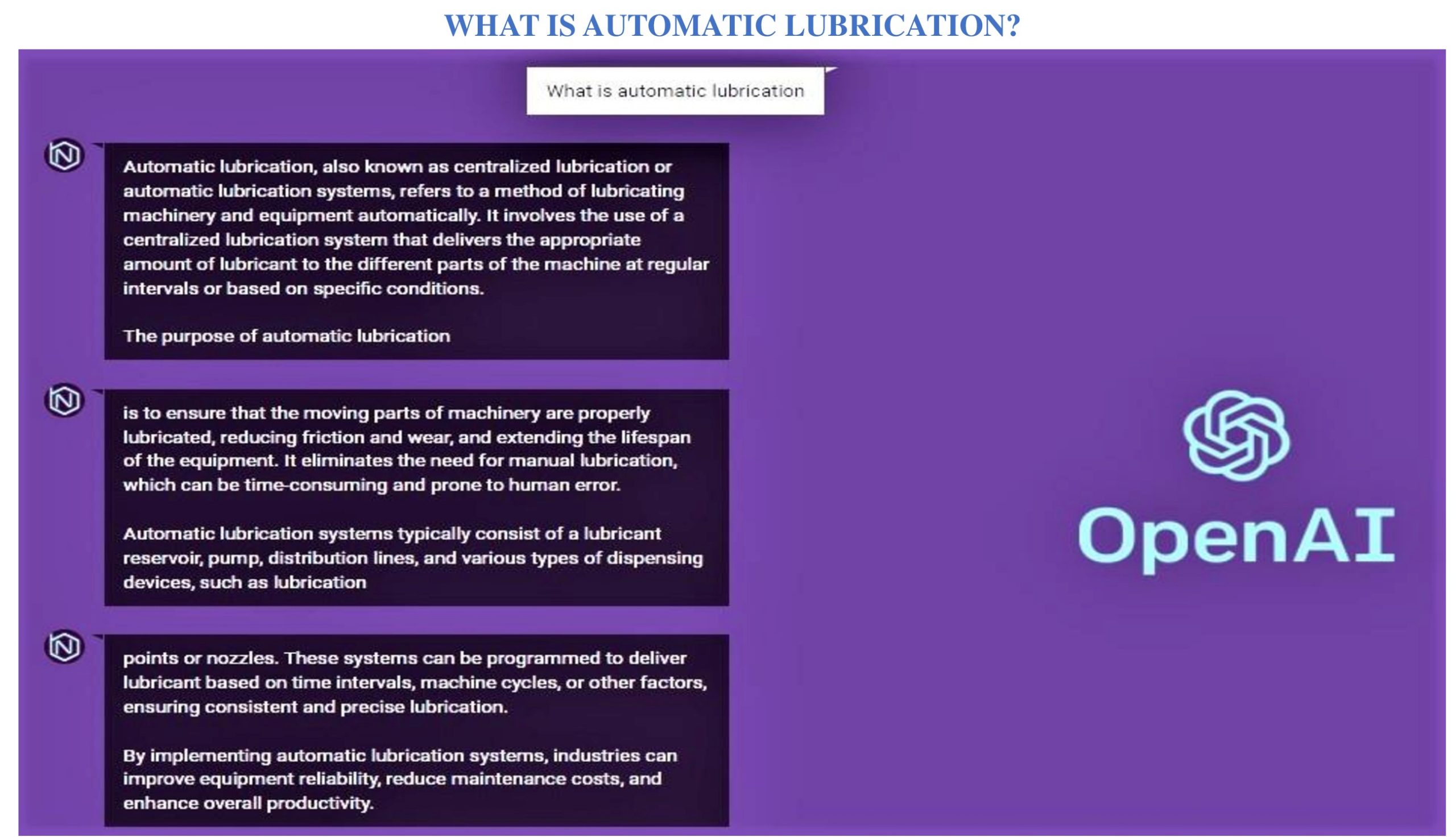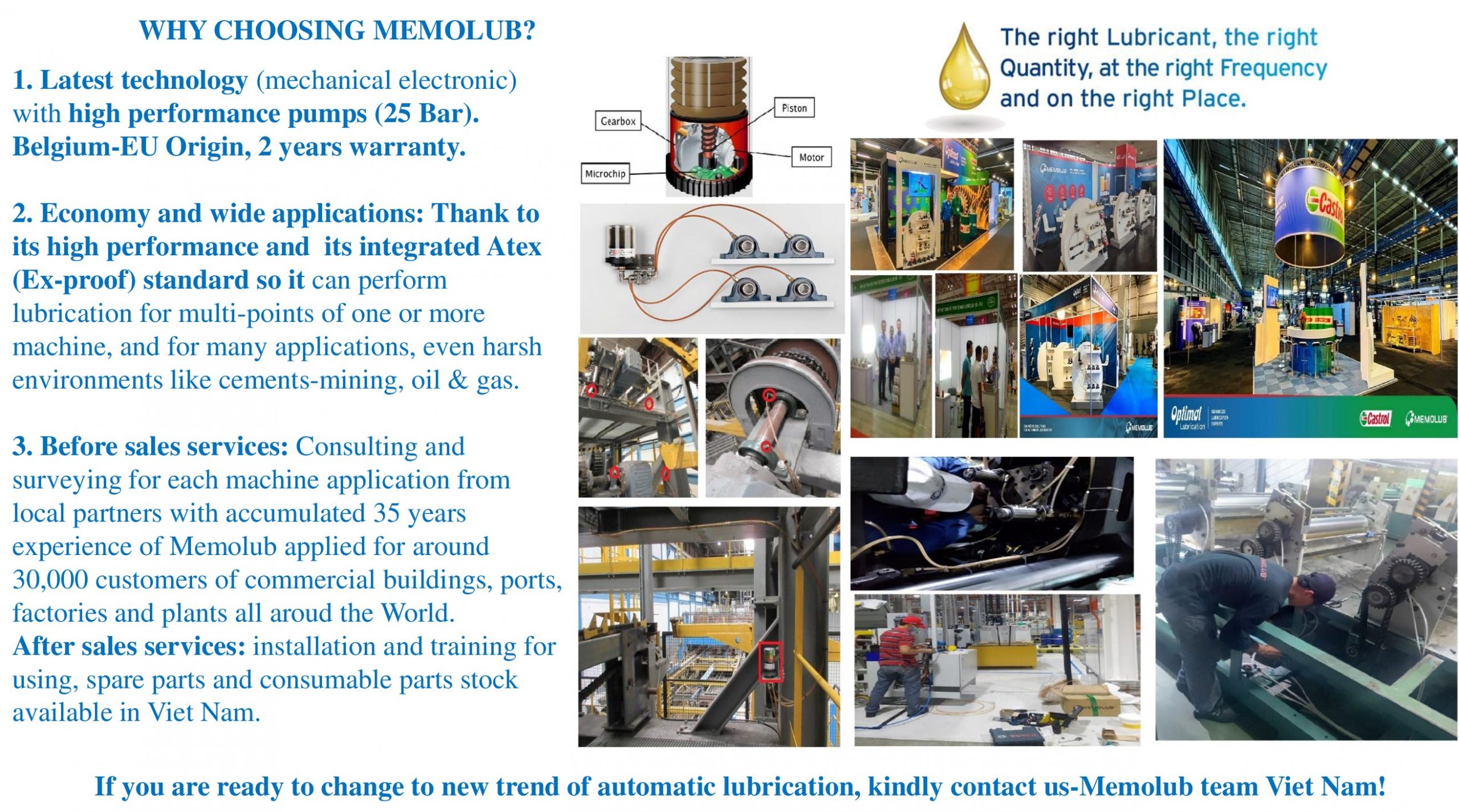 Sources
For downloading above content in Pdf file at 
https://drive.google.com/file/d/13NTmA7hzZGcMDz1V69MGOLn_wffovvwp/view?usp=sharing