1. Q: WHAT IS THE AUTOMATIC LUBRICATION SYSTEMS?
A: AN AUTOMATIC LUBRICATION SYSTEM (ALS) is a system that delivers controlled amounts of lubricant to multiple locations on a machine while the machine is operating.
Even though these systems are usually fully automated, a system that requires a manual pump or button activation is still identified as a centralized lubrication system.
The Main Features Of ALS Is
Accuracy: just enough quantity of lubricant according to calculations, working conditions and settings
Continuously: lubrication every day or even every hour
Closed-clean: not contaminated and impurities for lubricants and lubrication points
Automatic lubrication system was invented and designed to
Minimize labor accidents and protect people from dangerous lubrication locations such as overhead, high temperatures, dirt, high noise, toxic chemicals, damp, slippery, flammable, explosive area, moving parts,…
 Control the Lubrication and Protect the Machine better, as well as Improve the KPI-Efficiency for Maintenance and Production by ensuring machines are lubricated while the manufacturing process is running normally without stopping machine like manual lubrication, and minimize Machine downtime due to lubrication failure.
 Minimize the risk of pollution of the working and manufacturing environment and reduce Product quality negatively affected due to excessive lubrication when do manual lubrication.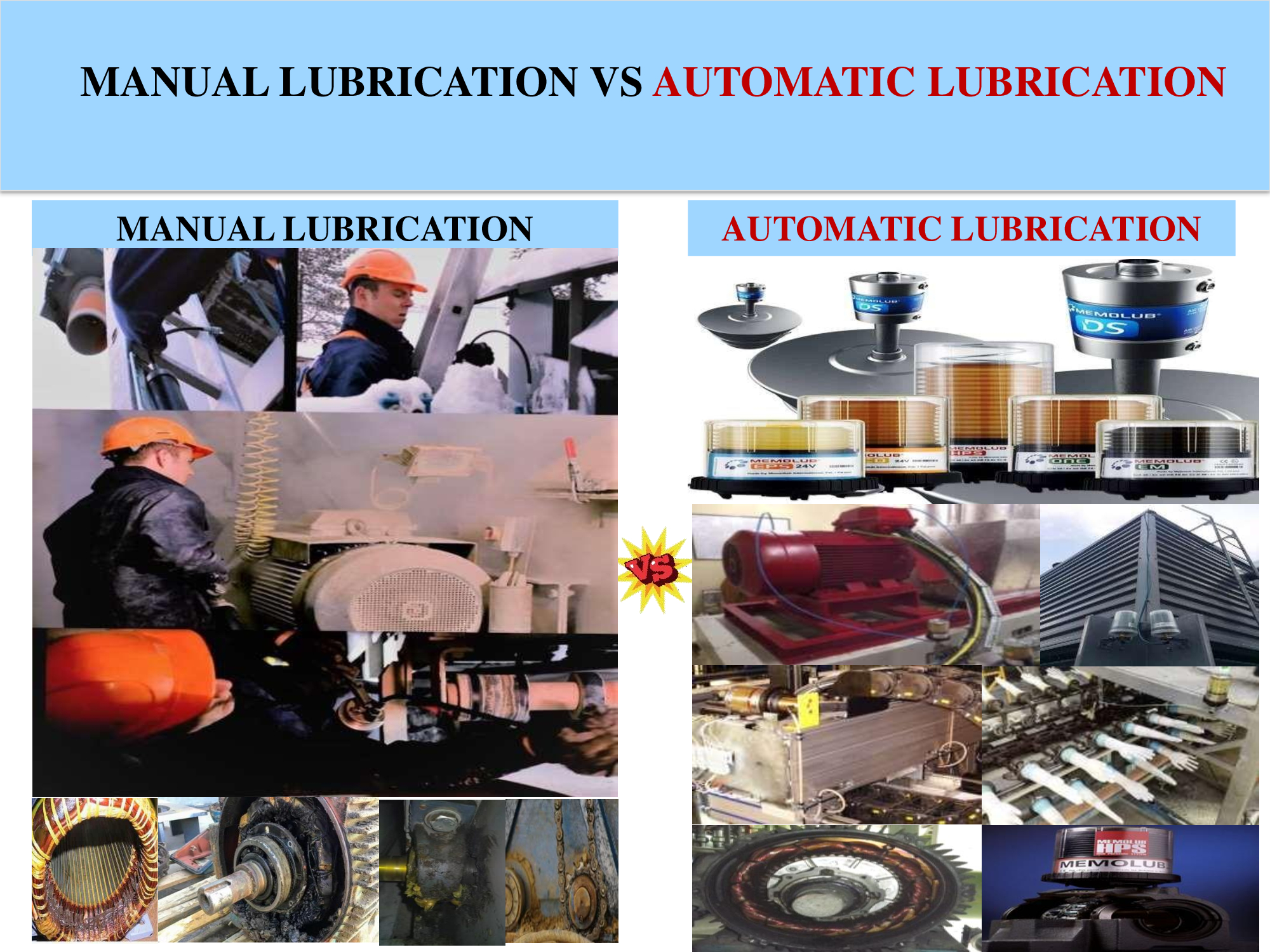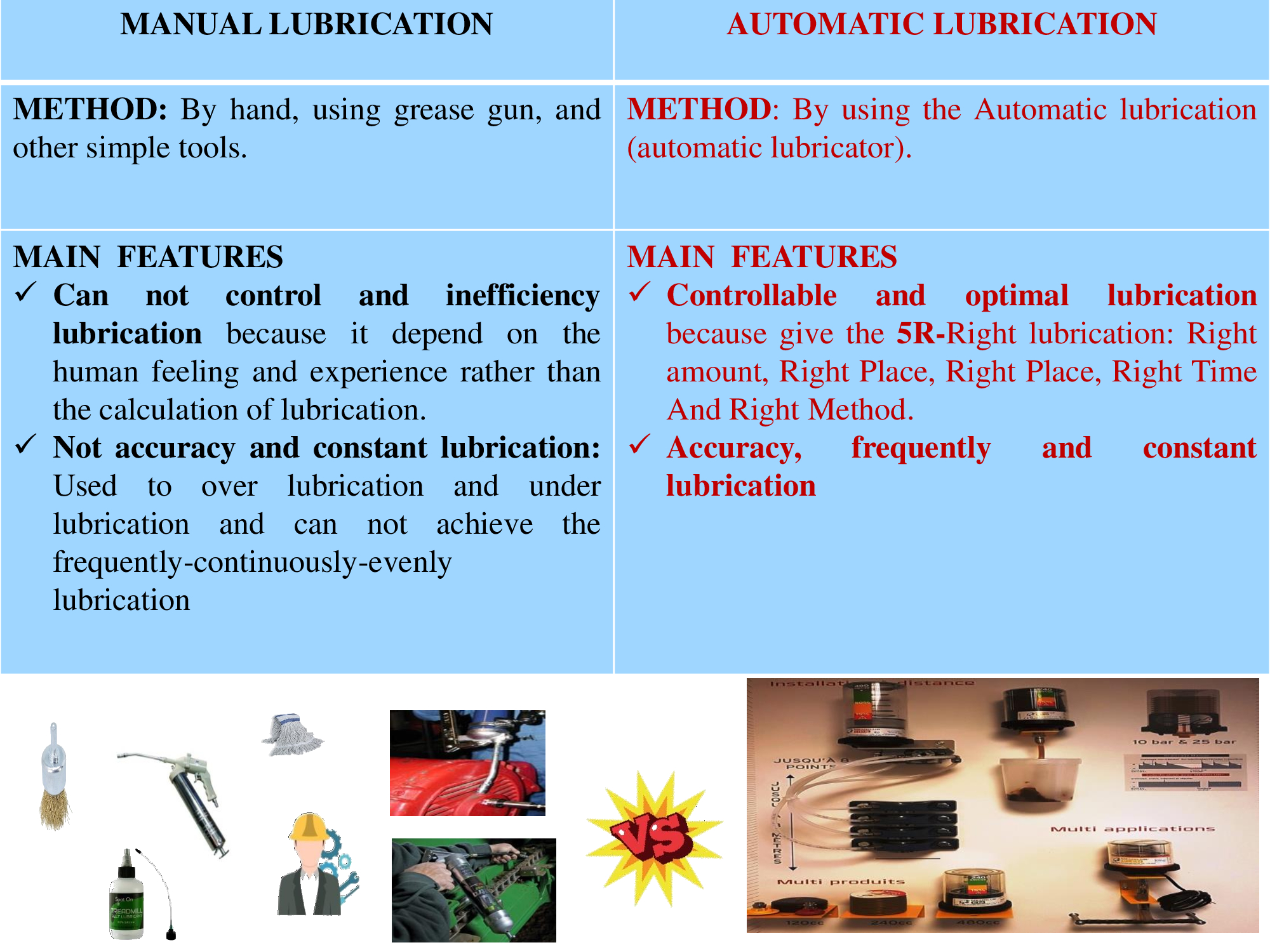 2. Q: WHAT TYPES OF AUTOMATIC LUBRICATION SYSTEMS AND ITS TECHNOLOGY?
A: CLASSIFICATION BY
I. THE LUBRICANT 
Automatic Oil Pump System: Lubricate the transmission gear such as Chains, Gears, …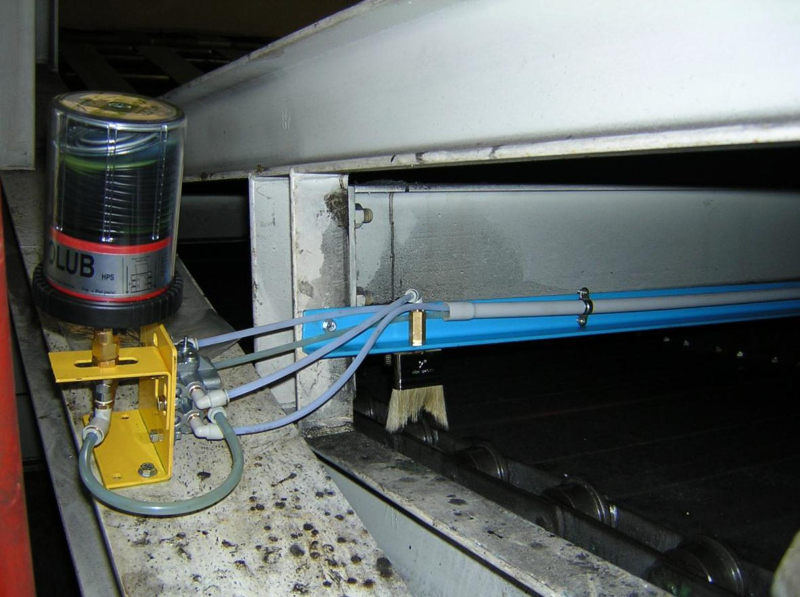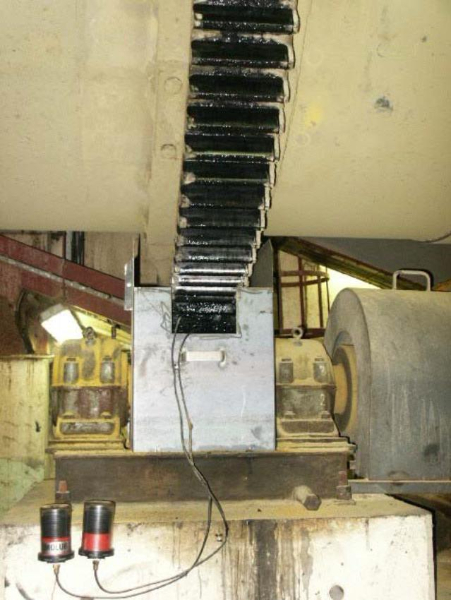 Automatic grease system: lubrication for equipment such as Bearings, Slide Linear Bearings, Screws dirve bearing, Cables,…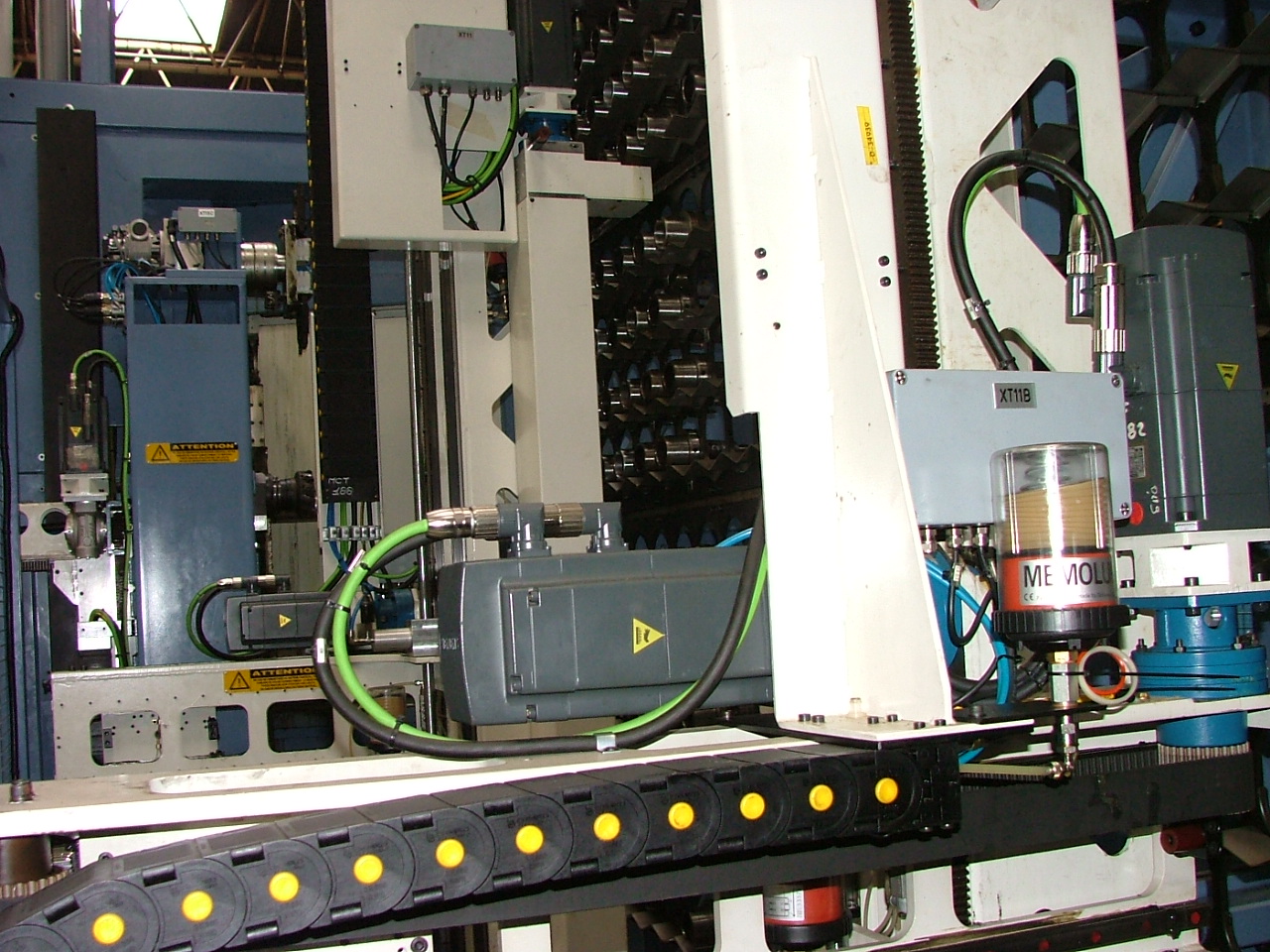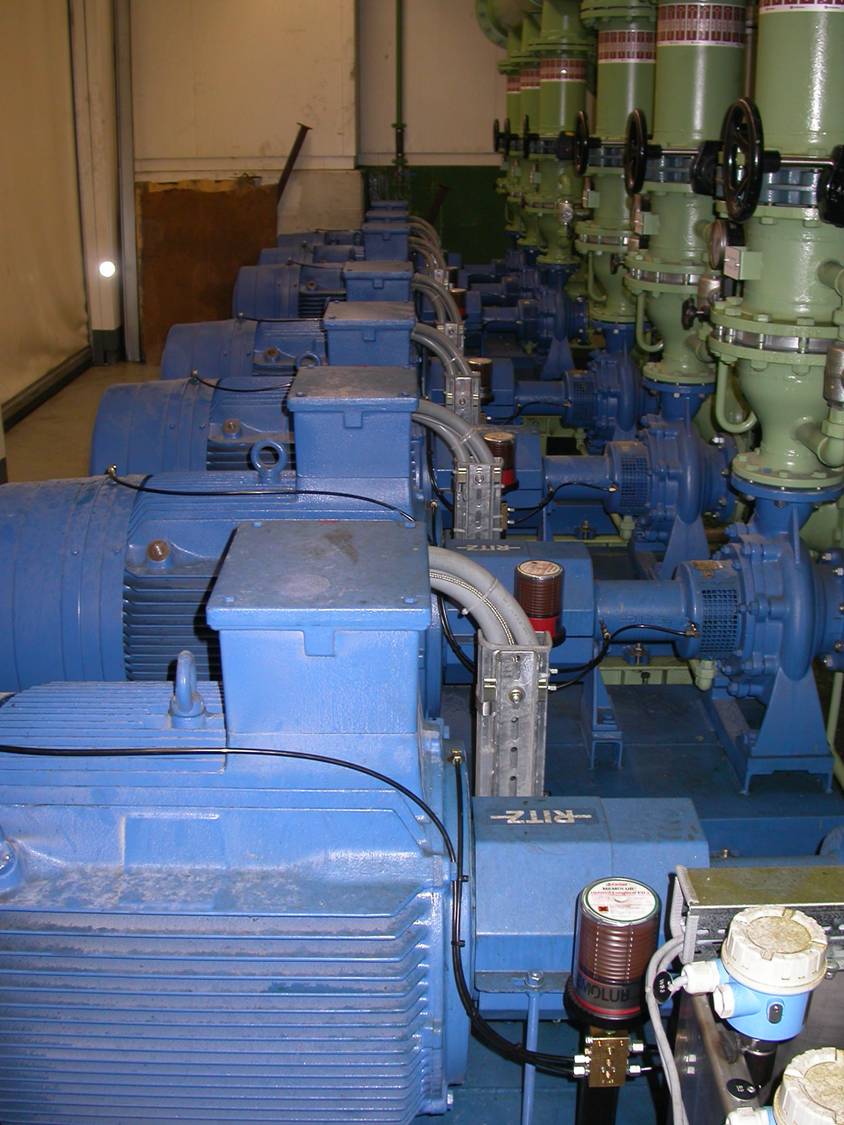 II. THE QUANTITY OF LUBRICATION POINTS
Single-point lubrication system: Pumps with low pressure of 10 Bar or less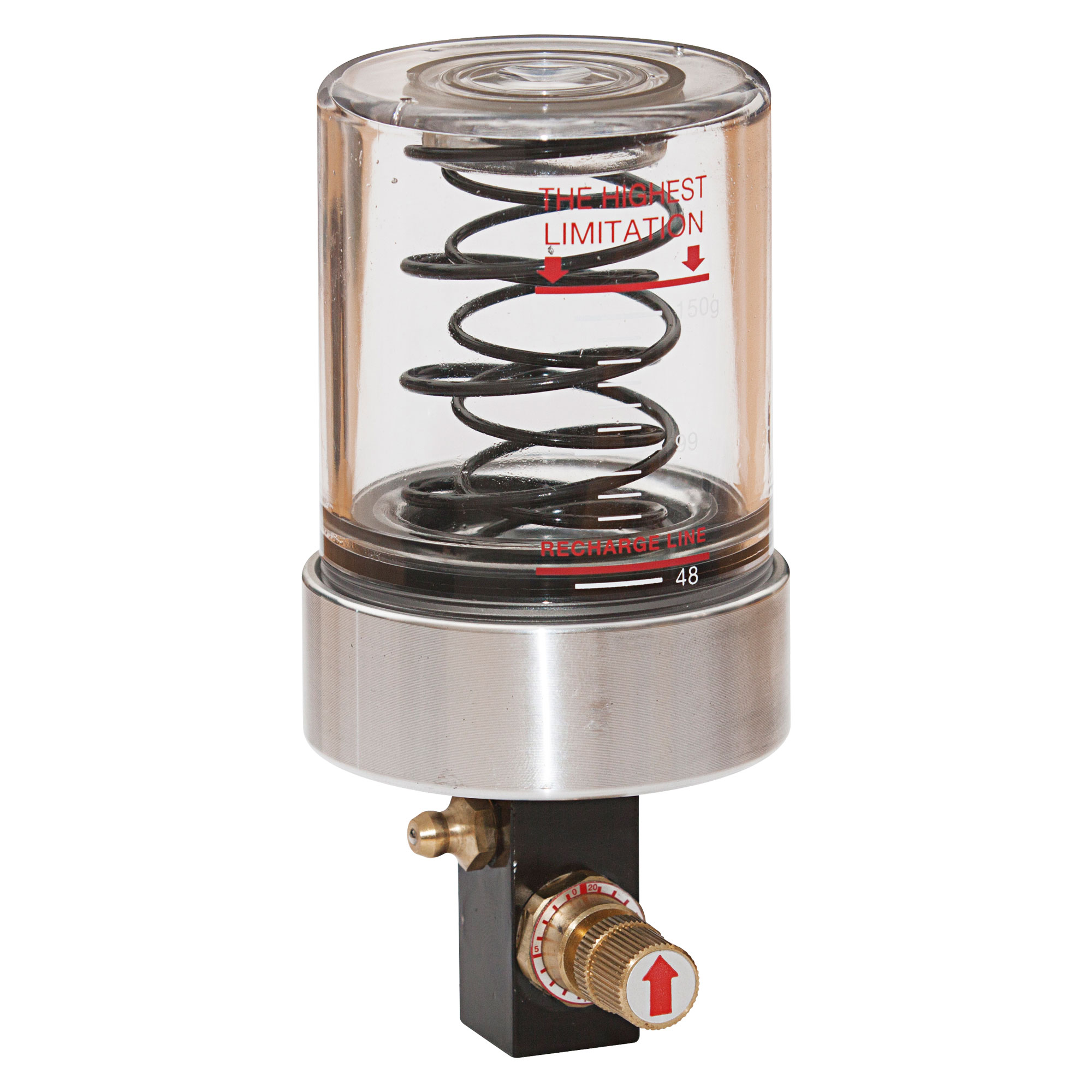 (Spring press grease for lubrication)
(Chemical-Gas expansion grease for lubrication)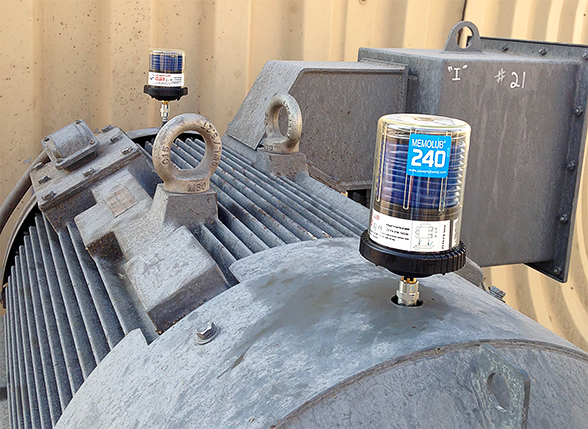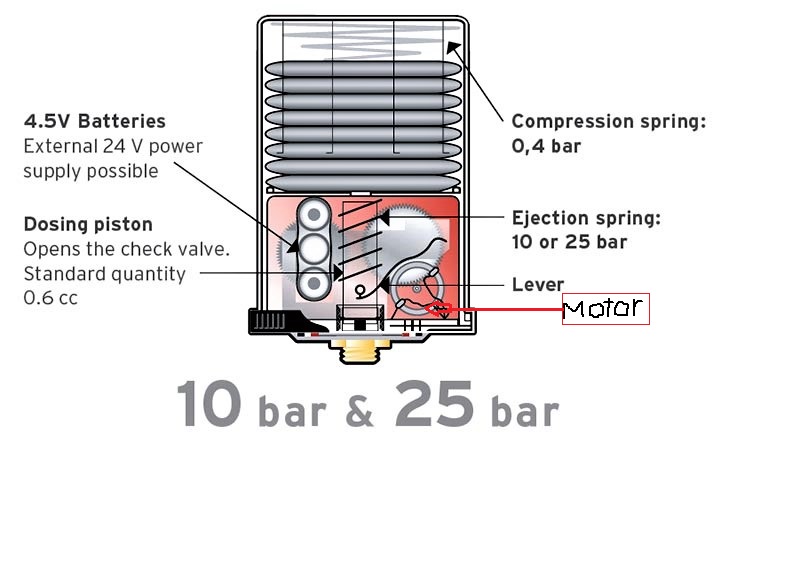 (Electro-Mechanical systems with controller, motor and pumps grease for lubrication)
3 Generation of Single point lubrication
Multi-point lubrication system (locally group multi-points): Using mechatronic technology, pumps with high pressure of 15 Bar or more (internal battery or external power supply) combined with the agressive distributor multi-points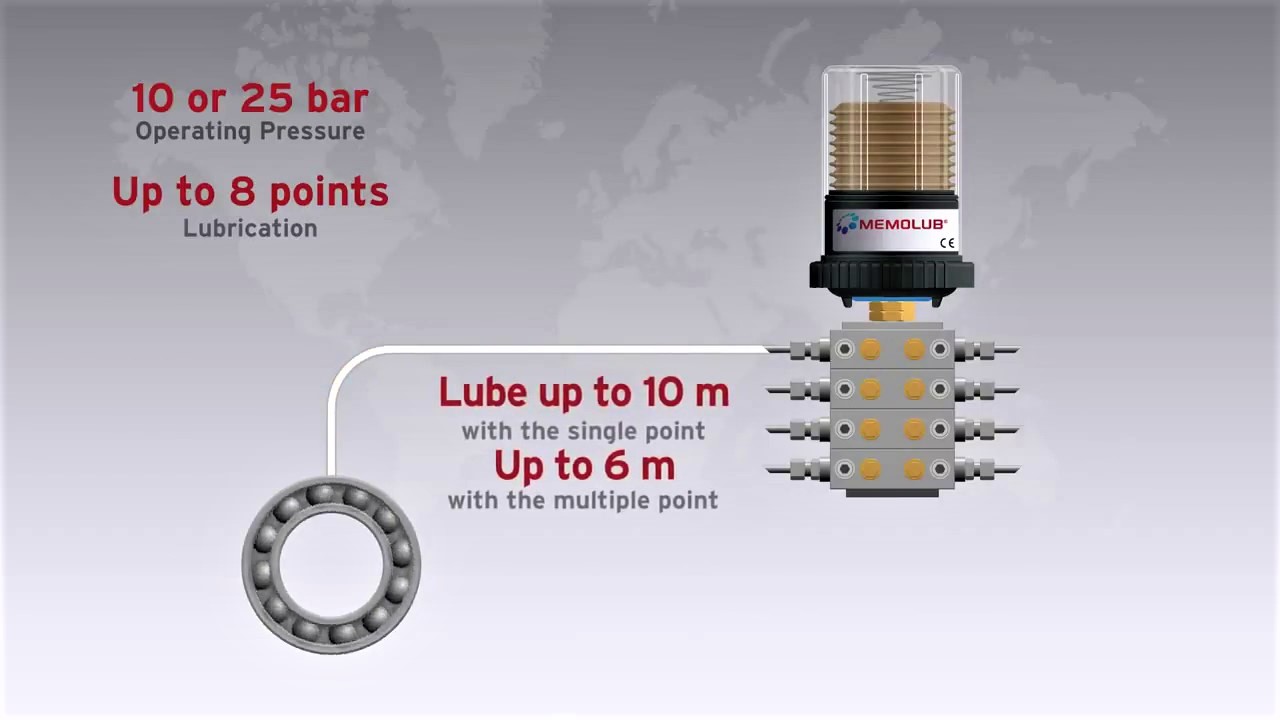 Centralized multi-point lubrication system: Using mechatronic technology, high pressure pump, usually from 50 Bar or more (external power supply or compressed air)
Decentralisation multi-points lubrication system: Mechatronics technology, low pressure pump (6 Bar) wthi special design then can pumps the lubricant far away –max 20m and lubricate many points (compressed air source).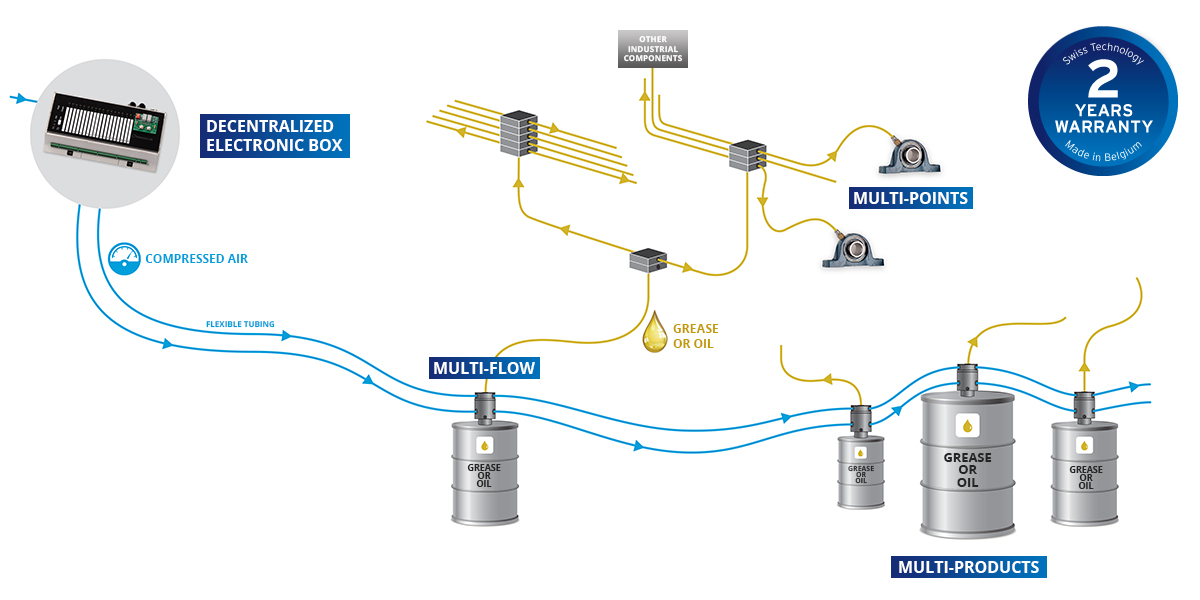 And other types of automatic lubrication systems such as 
Single Line Parallel systems

Dual Line Parallel systems

Single Point Automatics

Single Line Progressive systems (or Series Progressive)

Single Line Resistance

Oil Mist and Air-Oil systems

Oil re-circulating

Chain lube systems
3. Q: WHAT ARE THE BENEFITS OF AUTOMATIC LUBRICATION SYSTEMS COMPARE WITH THE MANUAL LUBRICATION?
A: THE BENEFITS OF AUTOMATIC LUBRICATION SYSTEMS COMPARE WITH THE MANUAL LUBRICATION
Auto lube systems have many advantages over traditional methods of manual lubrication:
All critical components are lubricated, regardless of location difficult or ease of access.
Lubrication occurs while the machinery is in operation causing the lubricant to be equally distributed within the bearing and increasing the machine's availability.
Proper lubrication of critical components ensures safe operation of the machinery.
Less wear on the components means extended component life, fewer breakdowns, reduced downtime, reduced replacement costs and reduced maintenance costs
Measured lubrication amounts means no wasted lubricant
Safety – no climbing around machinery or inaccessible areas (gases, exhaust, confined spaces, etc.)
Lower energy consumption due to less friction
Increased overall productivity resulting from increase in machine availability and reduction in downtime due to breakdowns or general maintenance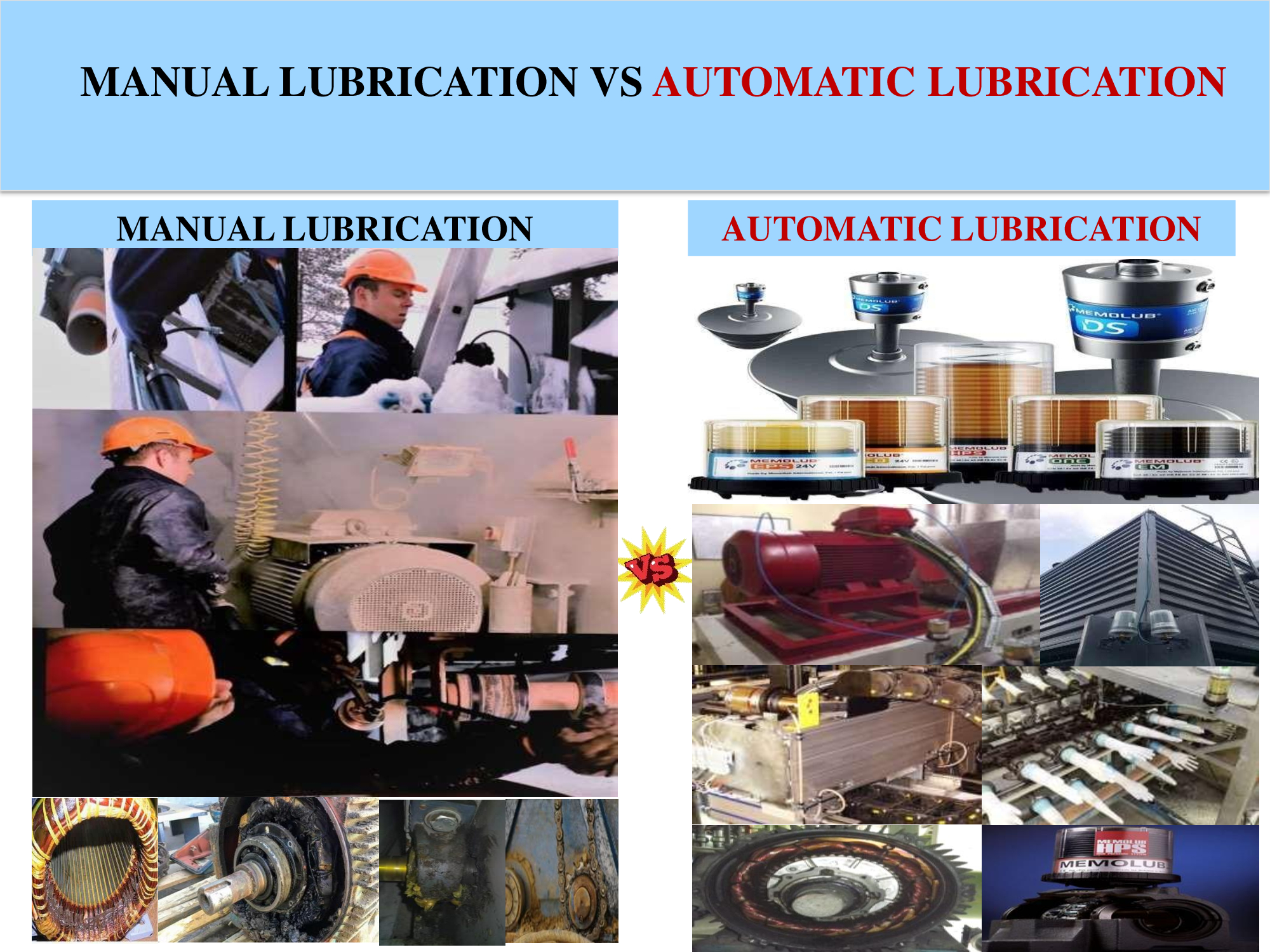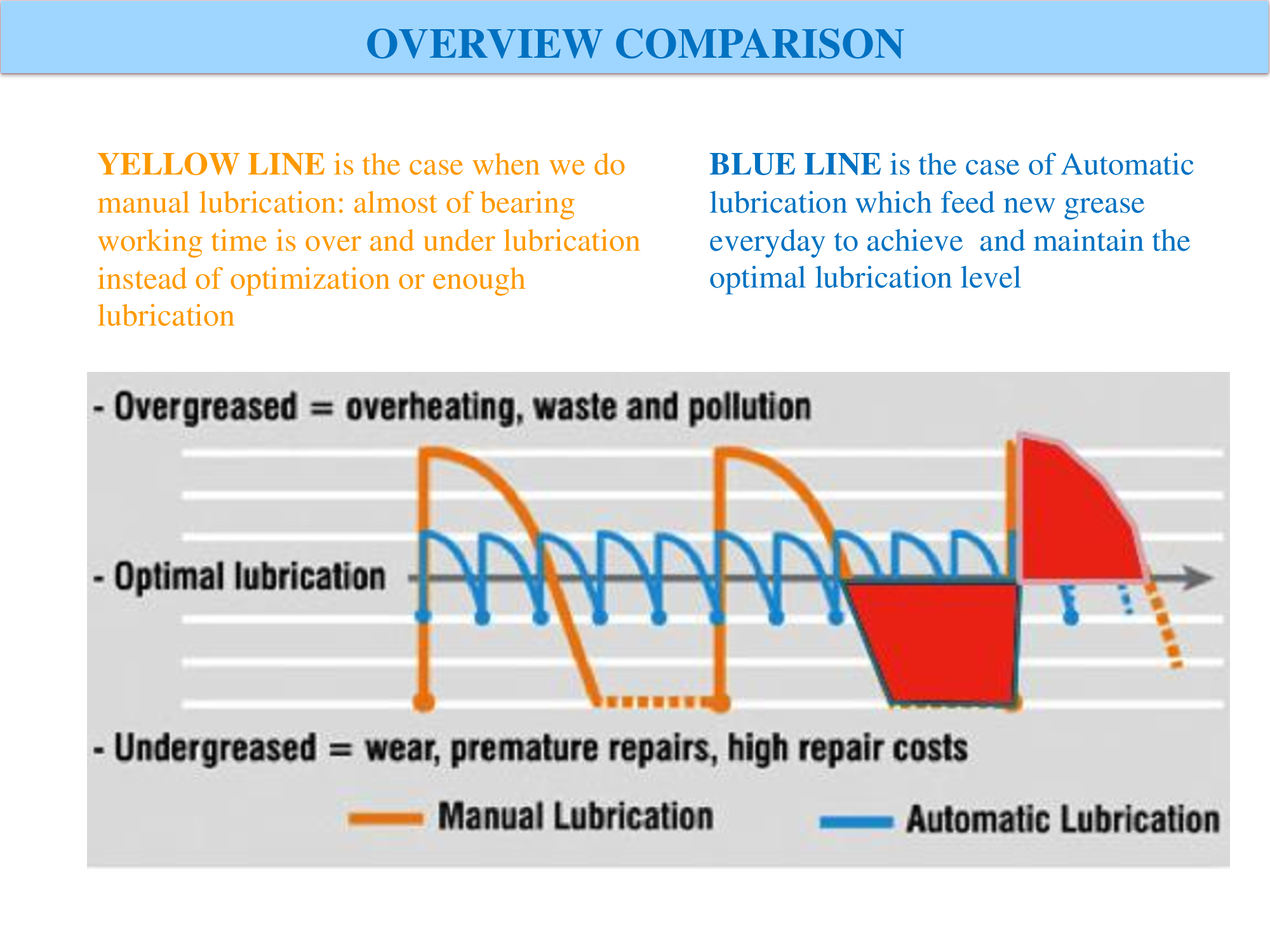 * Refer more detailed information of "MANUAL LUBRICATION VS AUTOMATIC LUBRICATION"
https://hopviet.com.vn/2020/02/manual-lubrication-vs-automatic-lubrication/?lang=en
4. Q: WHY THE AUTOMATIC LUBRICATION SYSTEM IS USED MORE AND MORE POPULAR?
A: BECAUSE THE AUTOMATIC LUBRICATION SYSTEM CAN CONTROL AND LUBRICATE MUCH MORE EFFICIENCY THAN THE MANUAL LUBRICATION, AND MORE…
Automatic lubrication system is designed to apply lubricant in small, measured amounts over short, frequent time intervals. Time and human resource constraints and sometimes the physical location on machine often makes it impractical to manually lubricate the points. As a result, production cycles, machine availability, and manpower availability dictate the intervals at which machinery is lubricated which is not optimal for the point requiring lubrication. Auto lube systems are installed on machinery to address this problem.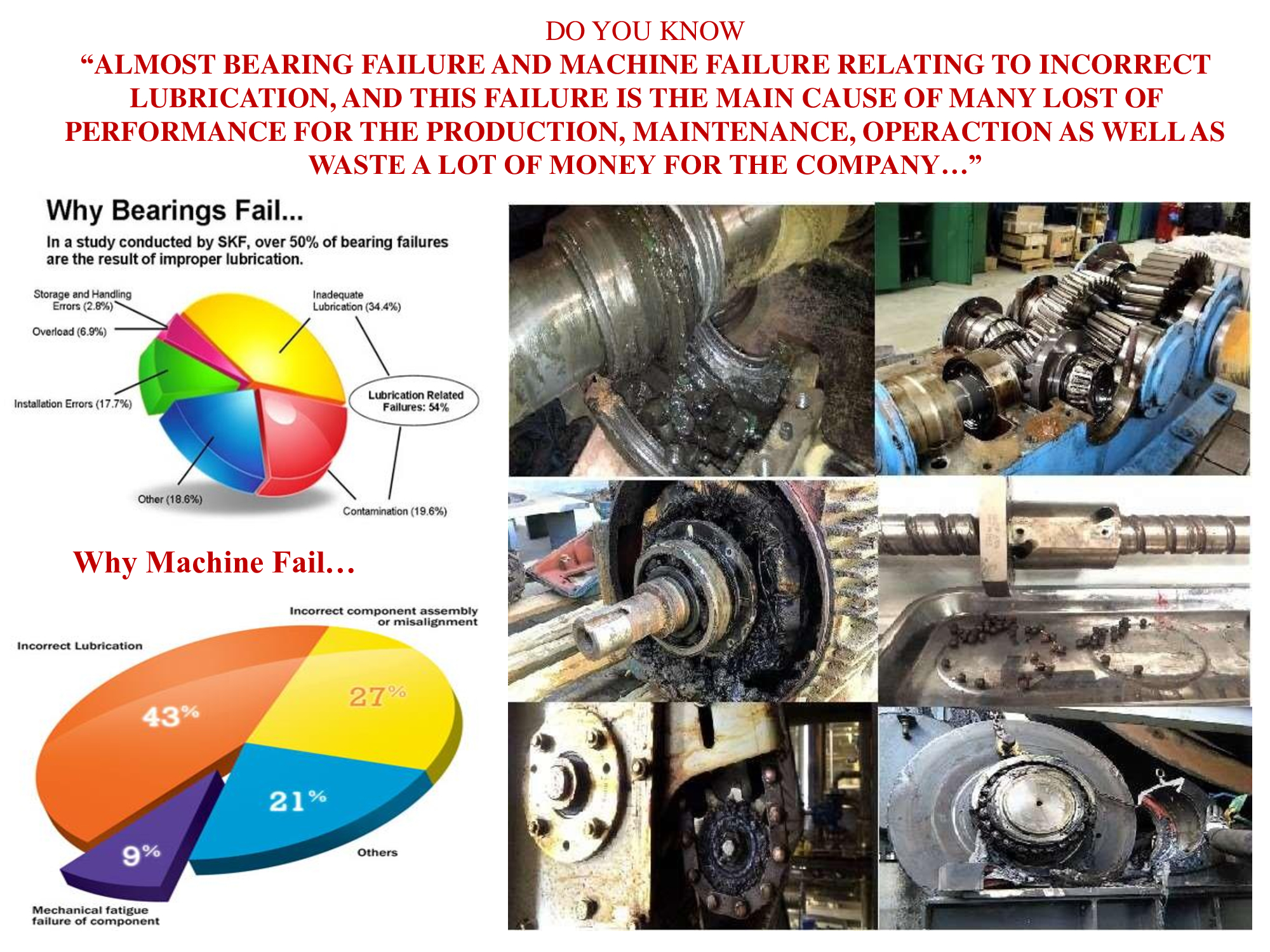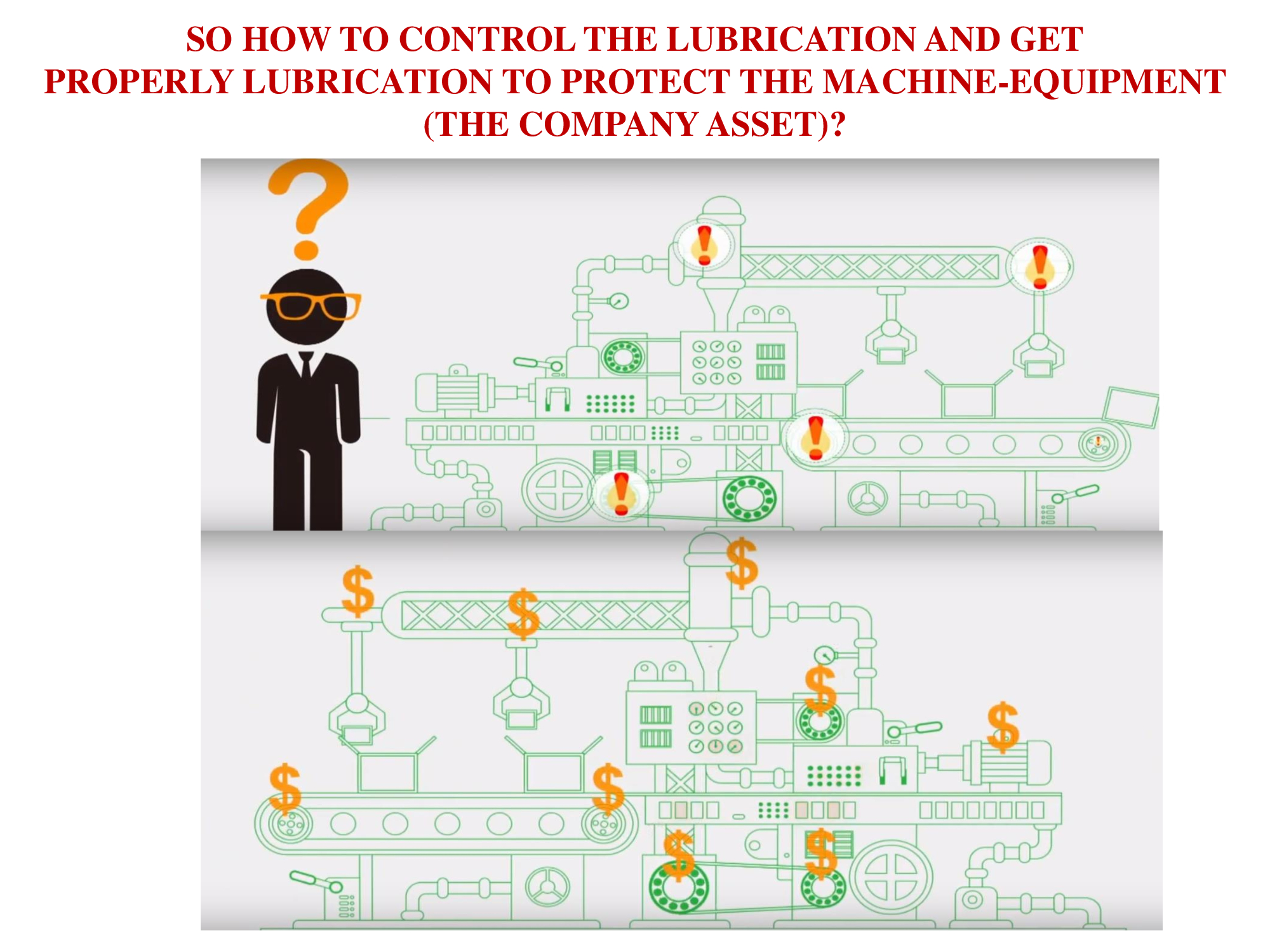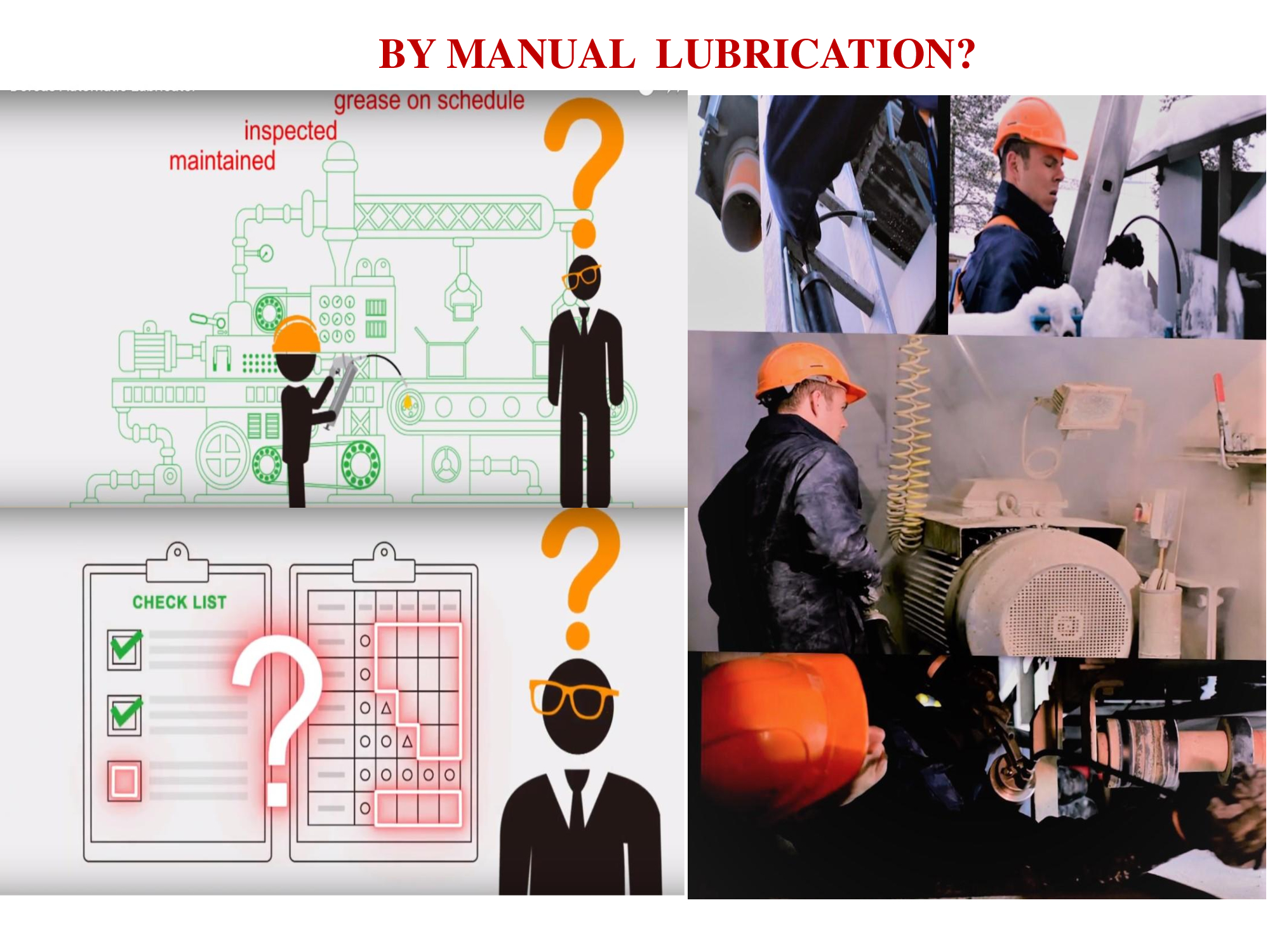 Actually we will schedule different lubrication for each machine, but the Maintenance Staff not only works lubricating the machine but also a lot of other things …
And so they will prioritize their working schedule according to the actual job instead of lubrication schedule according to the machine lubrication timely.
Besides there are the Lubrication points in dangerous area (overhead, high temperature, dirt, humidity, high noise, flammable, etc.), or there are lubrication points have to stop the machine….
Especially when the Factory has many Machines and Equipment operating continuously and in many different positions, it is impossible to lubricate accurately, continuously and evenly.
AUTO Lubrication is the option for Factories with limited time and human resources for Lubrication-Maintenance, Especially suitable for Factories with many machines and equipment that need lubrication, dangerous area lubrication, The machine runs continuously (manual lubricate must stop the machine).
In fact, we will prioritize the production, operation and availability of the machine and human resources, so it is not always the case that machines need lubrication. So most machines will not be lubricated appropriately and effectively when manual lubrication.
This results in damage to the bearing, the transmission mechanism and the mechanical part of the machine, as well as to cause other double failures, resulting in an increase in maintenance-repair costs, machine shutdowns, and production shutdowns.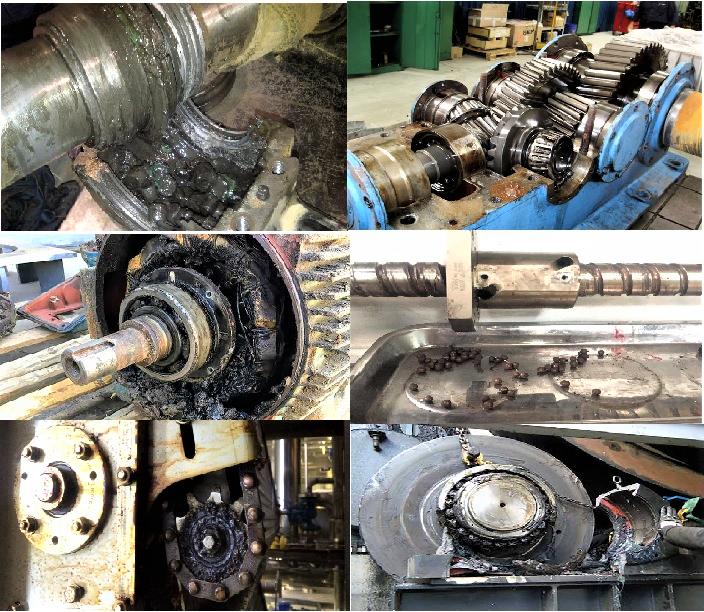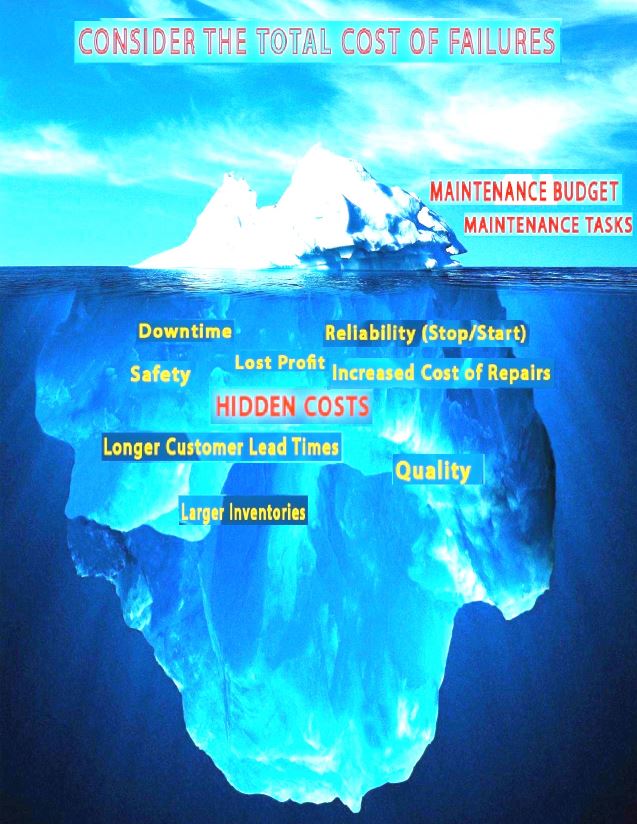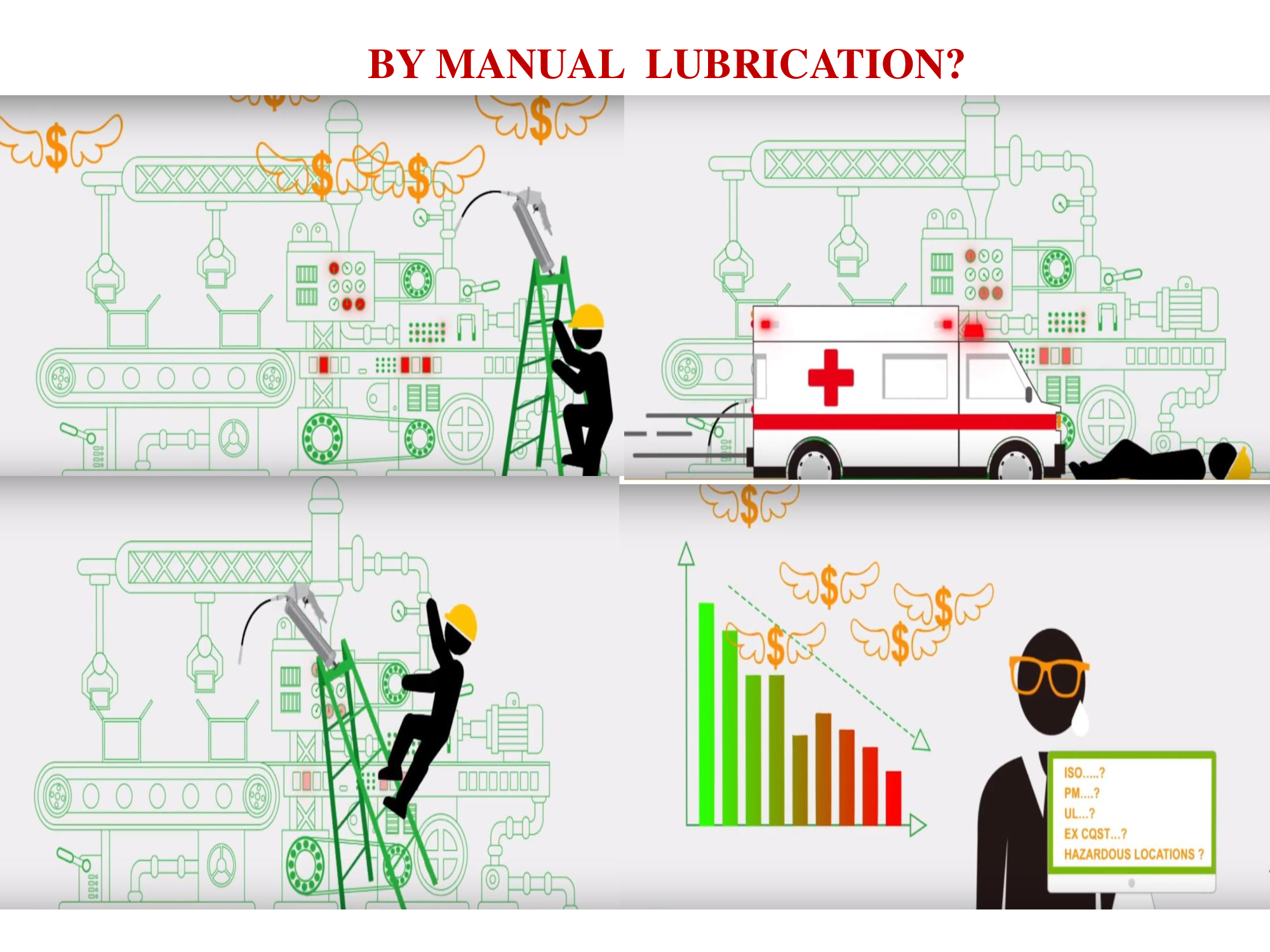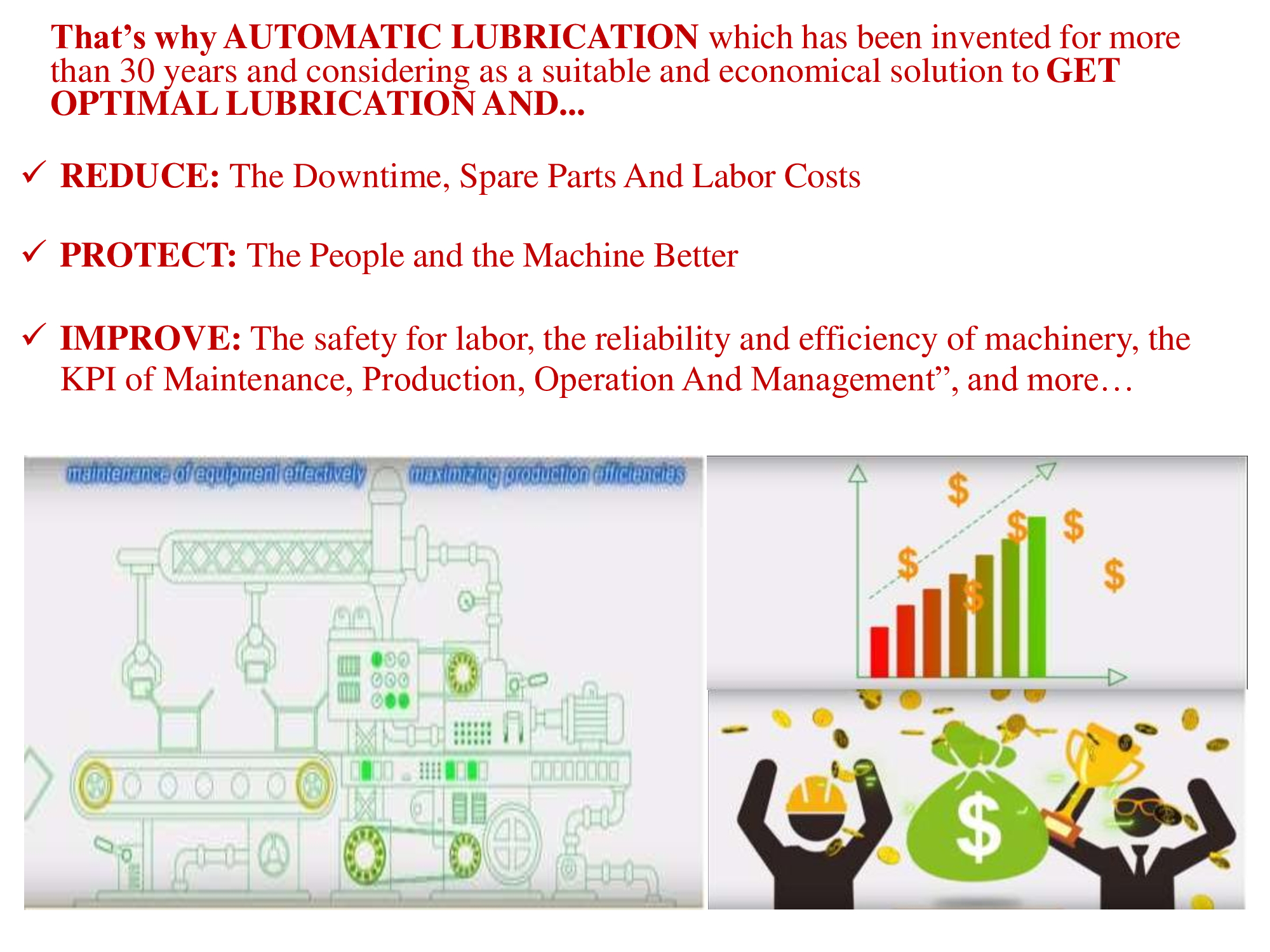 MORE INFORMATION OF  MANUAL VS AUTOMATIC LUBRICATION 
https://www.machinerylubrication.com/Read/29285/manual-automatic-lubrication
5. Q: WHAT IS THE STRUCTURE AND OPERATION PRINCIPLES OF AN ADVANCED AUTOMATIC LUBRICATION SYSTEM (ELECTRO-MECHANICAL TECHNOLOGY)?
A: A TYPICAL SYSTEM CONSISTS OF controller/timer, pump w/reservoir, supply line, metering valves, and feed lines. Regardless of the manufacturer or type of system, all automatic lubrication systems share these 5 main components:
Controller/Timer – activates the system to distribute lubrication can be linked to a POS system.

Pump with Reservoir – stores and provides the lubricant to the system

Supply Line – line that connects the pump to the metering valves or injectors. The lubricant is pumped through this.

Metering Valves/Injectors– component that measures/dispenses the lubricant to the application points.

Feed lines – line that connects the metering valves or injectors to the application points. The lubricant is pumped through this.
Structure And Operation Principles Of An Advanced Automatic Lubrication System (Electro-Mechanical Technology)
Structure and operation principle of the aggressive Distributor (control the pressure and flow for the output so make sure to divide the pressure and flow evenly all out-put ports whether the lubrication point is near or far from the pump)
6. Q: WHAT ARE THE ADVANTAGES AND DISADVANTAGES OF THE AUTOMATIC LUBRICATION SYSTEMS ACCORDING TO ITS TECHNOLOGY?
A: If the Traditional spring and Gas automatic lubrication technology has the advantage of being cheaper than the Advanced mechatronic automatic lubrication technology because of its simple structure, But there are many disadvantages such as:
Lubrication is only 1 point and must be installed in place
Incorrect flow rate, incorrect lubrication (because of the spring compression force and the ambient temperature)
Oil separated from the grease so it is not guaranteed to maintain the properties of the grease and the oil leaks on the pipe or fitting.
High cost to use because when all the grease is used, the pump must be replaced (cannot be reused)
You can refer to the following Comparison Tables for more details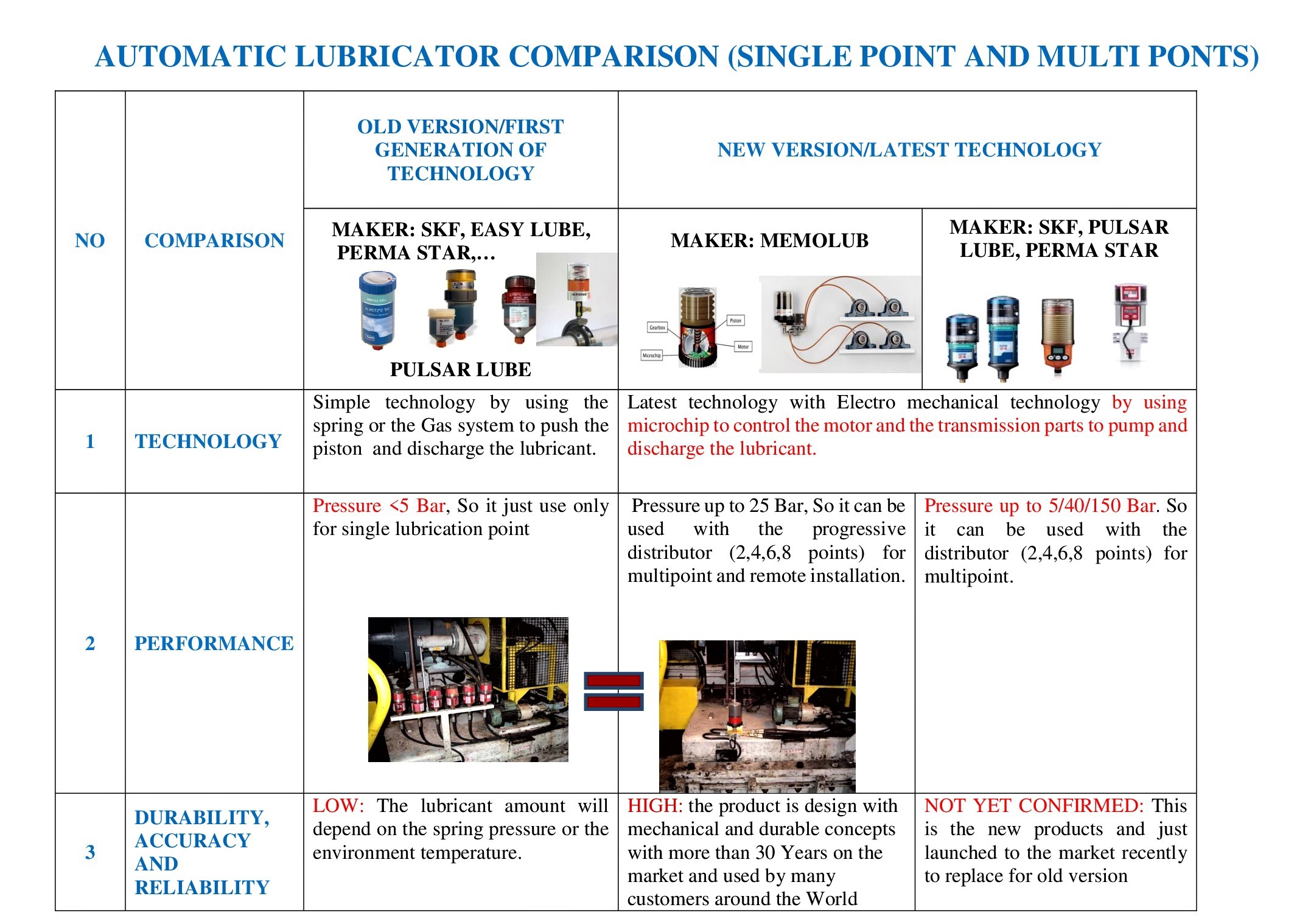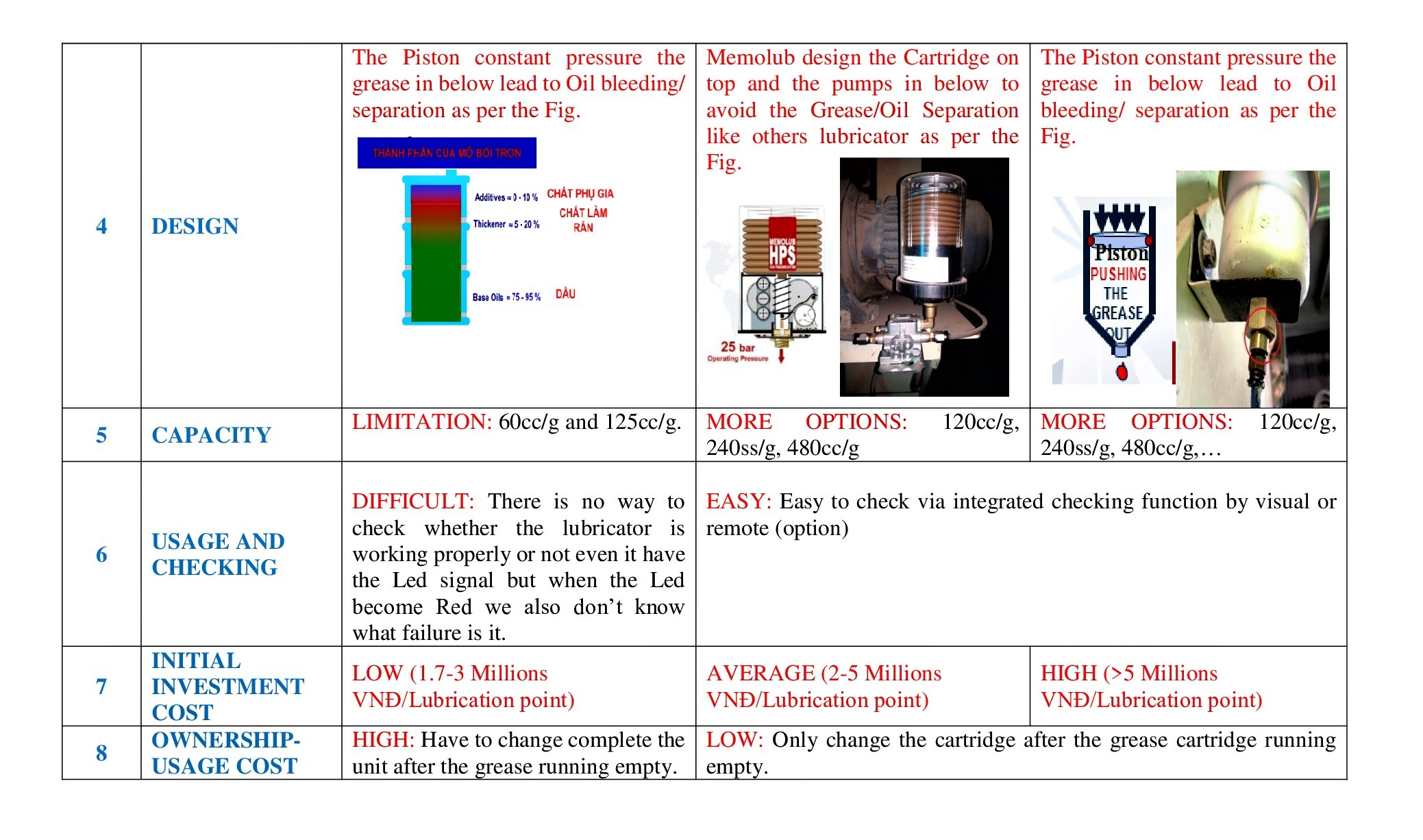 COMPARISON TABLE OF CENTRALIZED LUBRICATION SYSTEM
AND THE DECENTRALISATION LUBRICATION SYSTEMS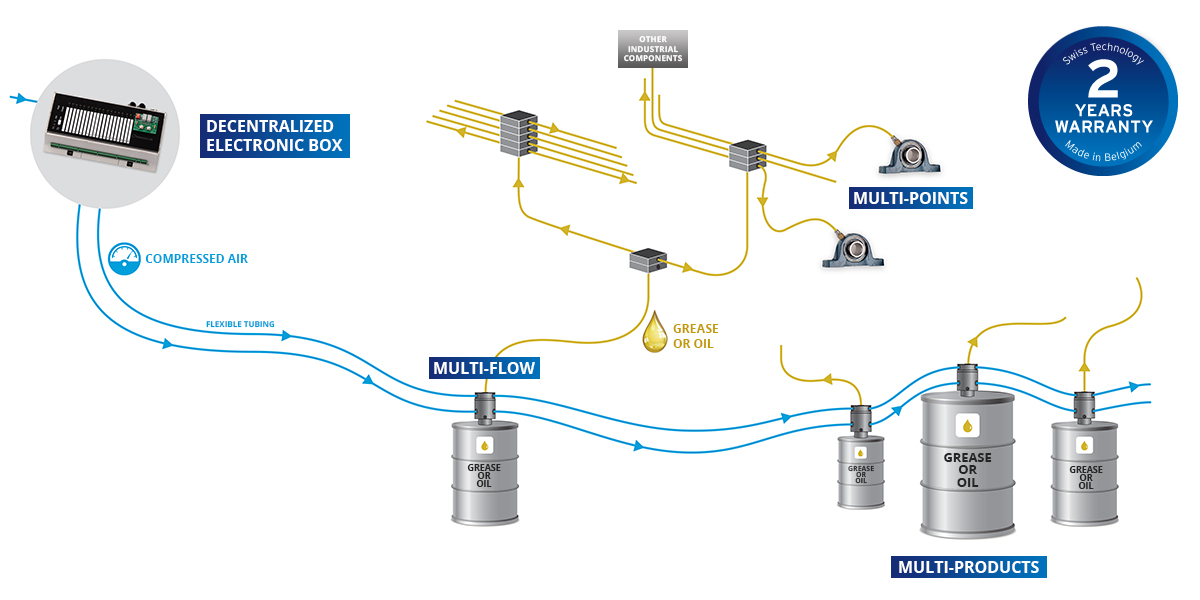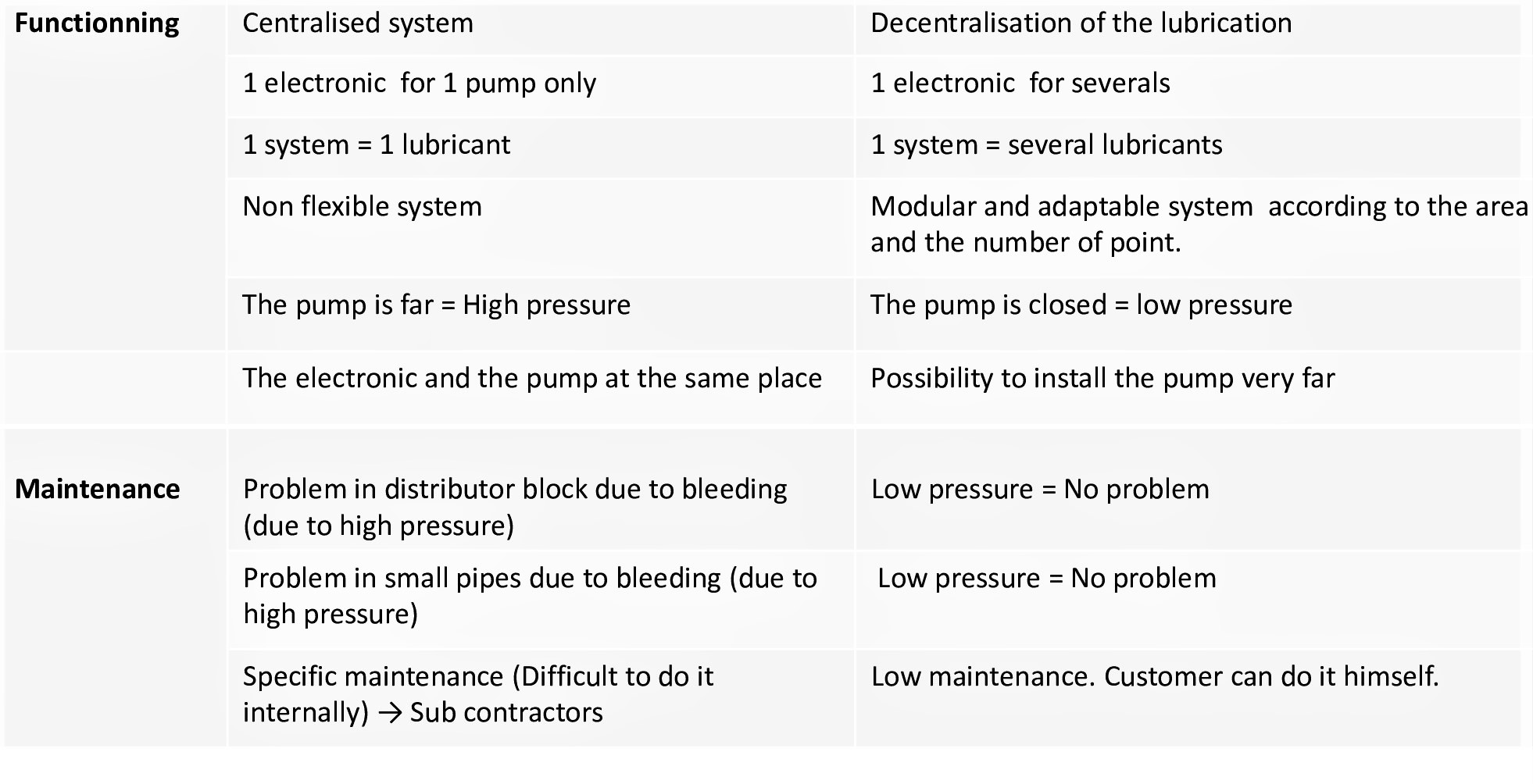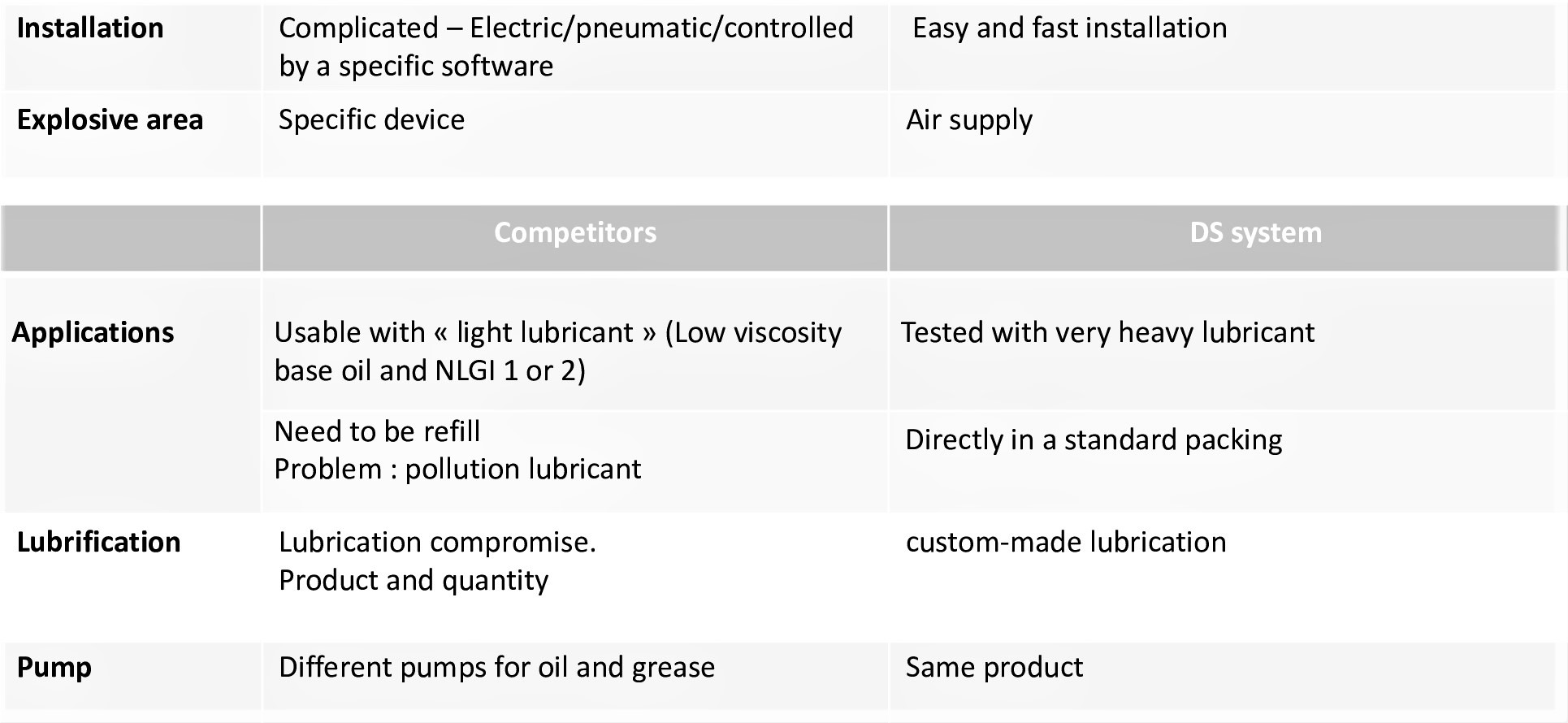 7. Q: HOW TO SELECT A SUITABLE AUTOMATIC LUBRICATION SYSTEM?
A: Deciding how to lubricate equipment in a process plant is not an easy task🤔
There is generally no accepted rule for how this can be accomplished. To develop a strategy for the relubrication of each lube point, you must consider several factors, such as the consequences of a bearing failure, the lubrication cycle, the ability to lubricate manually and the hazards of relubricating during a normal production run.
The consequences of a bearing failure can be classified for both automatic and manual lubrication. Although no common standard exists, you can create your own classification, which could be similar to the following:
For each class, define which lubrication systems are acceptable and how performance is verified.
Classes 3 and 4 are the most interesting and are the most important also the most suitable for applying automatic lubrication. Because If the lubrication system does not work properly for these classes, sooner or later you will experience costly problems.
For example, if the factory stopped production for one day because a machine was damaged and the root cause was due to lubrication, the company could not unpay for the factory's employees on that day and sorry to say that the customer will be late delivery in poor quality due to inefficient lubrication error!
Or for example, the Hotel & Commercial Buildings has broken Cooling Tower Equipment, Cooled Water Pump Motor, AHU, Elevator-Escalator. At that time we cannot say sorry to customers because the inconvenience of heat, lack of air, and have to walk because of the important machines to operate the building has been damaged by a lubricant error, although it may be true because …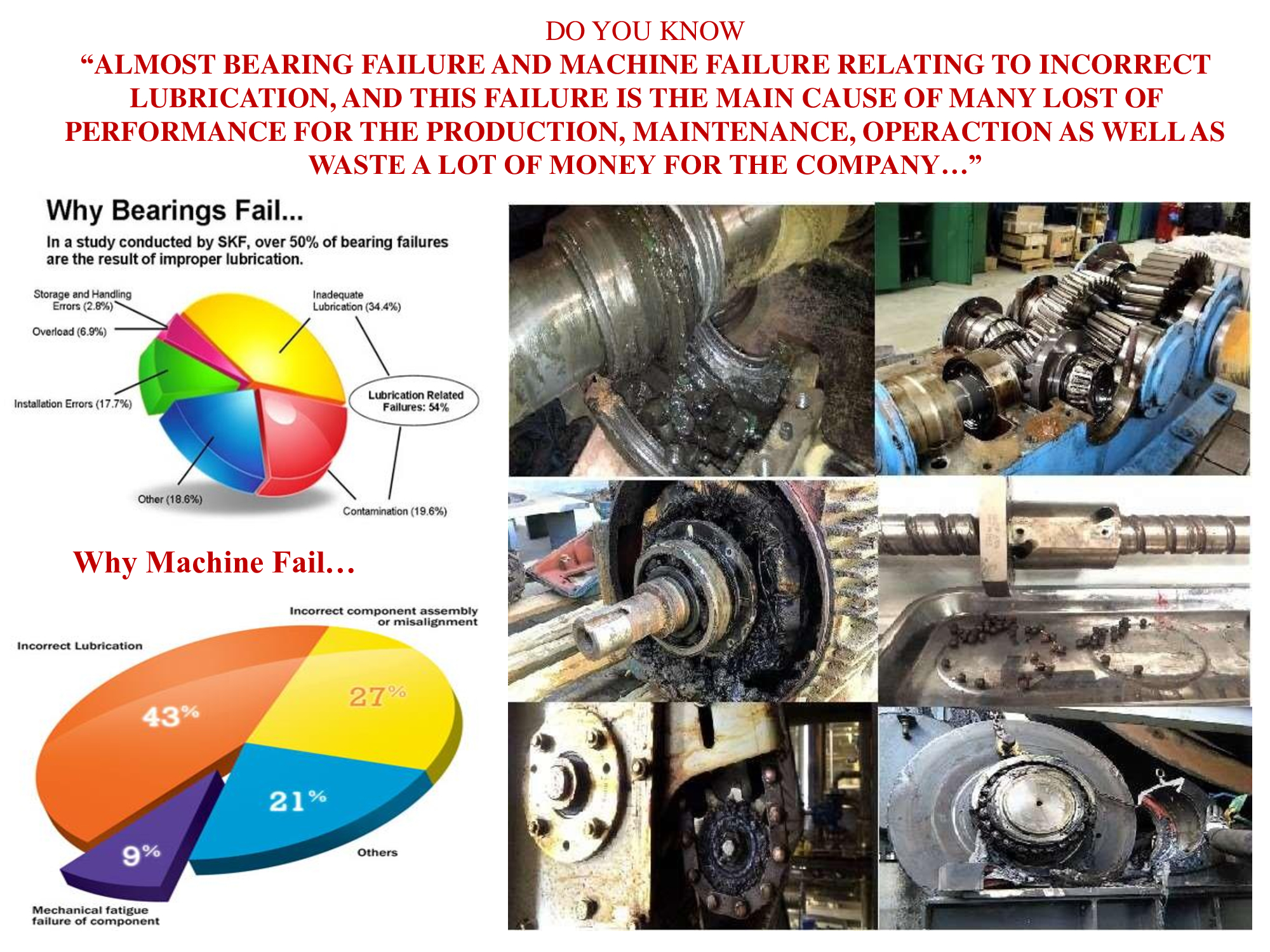 For class 3, only reliable lubrication systems with good control functions should be used. Note that most systems only monitor the pressure in the main distribution lines or that the piston has moved in the dispenser. None of the traditional systems can indicate whether the lubrication pipe between the dispenser and the lube point is broken.
For class 4, ensure that the amount of lubricant fed into the point is measured and compared with the set value, or that vibration measurements are collected on a regular basis and studied, with appropriate action taken when necessary.

In addition, we must also consider the applicability and suitability of existing lubrication systems on the market.
For example: If the factory has many lubrication points for many machines of level 3 and 4 located in different positions, in different production lines and production areas with different working and lubrication conditions, if we chooose
👎 Single-point automatic lubricator: is not suitable because it will have to use many single point lubricator with lot of money, it is also expensive for ownership cost when the lubricator can not be reuseable and have to be changed complete set when finished grease. This choice of Single-point automatic lubricator maybe suitable when we apply for 1 lubrication point seperately or remotely.
👎 Centralized or Decentralisation automatic lubrication systems: is not suitable because it is not possible to wiring, connect for many different positions divided by many machines with different amount of lubricantion is not feasible and very expensive as well as There are many potential risks when one lubrication point on the system is damaged and affecting many other points of many other machines. It is also expensive for ownership cost as this systems need to do maintenance often. This choice of Centralized or Decentralisation automatic lubrication system maybe suitable when we apply for many lubrication point (serveral hundreds point with same size and working condition at one area or line) or when the amount of lubrication for one point is too big (Ex: >15g/Point/Day).
👍Multi-Points automatic lubrication systems (local group points lubrication system): is suitable because the independent of installation for each group of lubrication points of each machine. Investment costs and the ownership cost are also reasonable becasue the product can be reuseable and only change the grease cartridge when it is empty, inspection and control the lubrication are also very easy.
In addition to the above technical and application factors, we also need to pay attention to the factors.
Quality, durability, stability and reliability of the product Automatic Lubrication, as this is the first important factor to be concerned about in choosing protective devices for home property machines. machine like machinery automatic lubrication system.
Prestige and experience of brands name and the suppliers in the market
Availability of products on the market
Good and professional supplier's technical services
Finally, do not overlook the training of your team members. Maintenance personnel must be familiar with all types of systems in use. Lubrication systems can fail during using (mostly is using failure) as it is also an equipments and it need troubleshooting. Therefore, it is wise not to mix many different system types and brands. This could result in choosing a dual-line system for just a few points when a single-line progressive system would be less expensive.
In summary, it is very important to choose which automatic lubrication system and apply to which machine position and requires serious and appropriate attention when investment.
Although it may be time-consuming and expensive at initial investment, but in the future we will gain a lot of benefits if we choose the right and appropriate automatic lubrication system from today.
Lastly, do not skip the training of your team members after having equipped with the automatic Lubrication system. Because Humans remain an important and decisive factor in all matters, and the issue of "Safe-effective lubrication control" is no exception.
Wish you apply the appropriate and successful automatic Lubrication system to bring efficiency to the work and benefits for the Company.
REFERENCE SOURCES