Product Description
MEMOLUB® ONE is the perfect solution for regular micro lubrication.
Its 240 cm3 content and 0.60 to 7.20 cm3 daily output makes it the ideal multifunction lubricator of our product range.
Settings 1 to 12 months (see technical data's). With its 10 bar pressure, it can be remotely installed up to 2 meters at 0°C – Certified ATEX – EX zone 22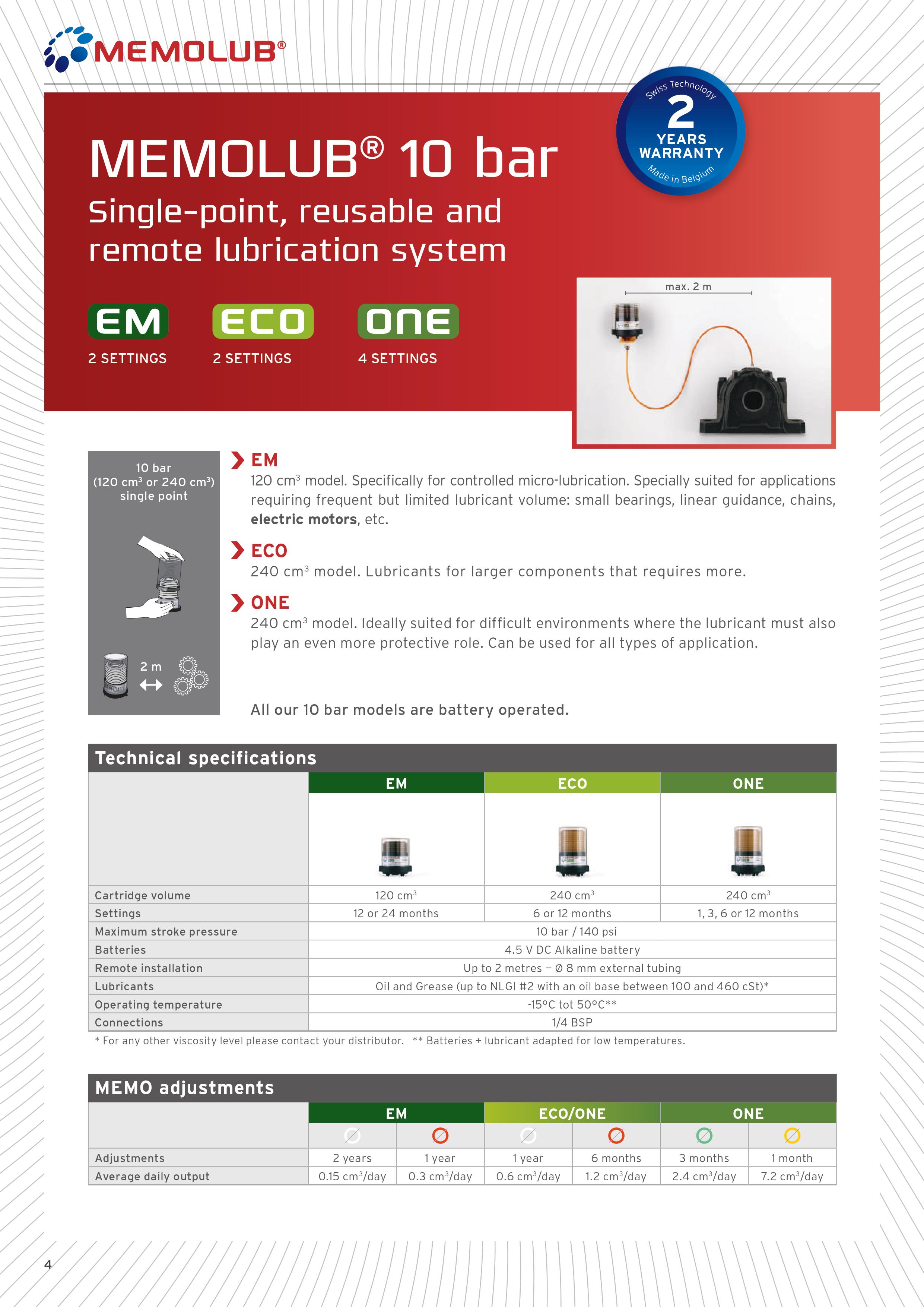 CATALOGUES : http://memolub.be/wp-content/uploads/2017/06/broch.Gamme_EN_170505_LR.pdf
MEMOLUB INSTALLATION AT THE CUSTOMERS PLANT PICTURES: https://hopviet.com.vn/hinh/boi-tron-tu-dong-memolub/
TYPICAL CUSTOMERS WHO USING MEMOLUB IN VIET NAM:  TH Milk, Cargill Viet Nam, Cadivi, Vifon, Viet Nam Flour Mill-Vfm, Mekong Flour Mill, Guyomarc'h Viet Nam, Hai Huong Seafoods,  Fico Cement Plant,  Ha Tien Cement Plant, Kimberly Clark Viet Nam,  Tidapha,  CP Viet Nam, Vinacafe , Vinamilk, Ansell Viet Nam, Unicharm-Diana, Wattens Paper Viet Nam,  Cadivi, Grobest Viet Nam,…
Do you want to Protect as well as increase the efficiency for Machines of the Company?

Do you want to Protect the Company Employees from Accident or Health Loss due to Lubricating working in hazardous locations
(high noise, high temperature, dirt, overhead, flammable, Explosion,…)?

Do you want to reduce monthly Electricity bill for the Company?


If the answer is YES, so please feel free contact us to make these expectation become reality!
Best Regards,
Cao Hoang Le (Mr) – Technical Sales Manager; M:  0985 584 133
E: hoanglecao@hopviet.com.vn  Alt E: hoanglecao@gmail.com 
……………………………………………………………………………………
HOP VIET TECH CO., LTD
FAN PAGE: https://www.facebook.com/hopviet.com.vn/
LINKEDIN PAGE: https://www.linkedin.com/company/hop-viet-tech/